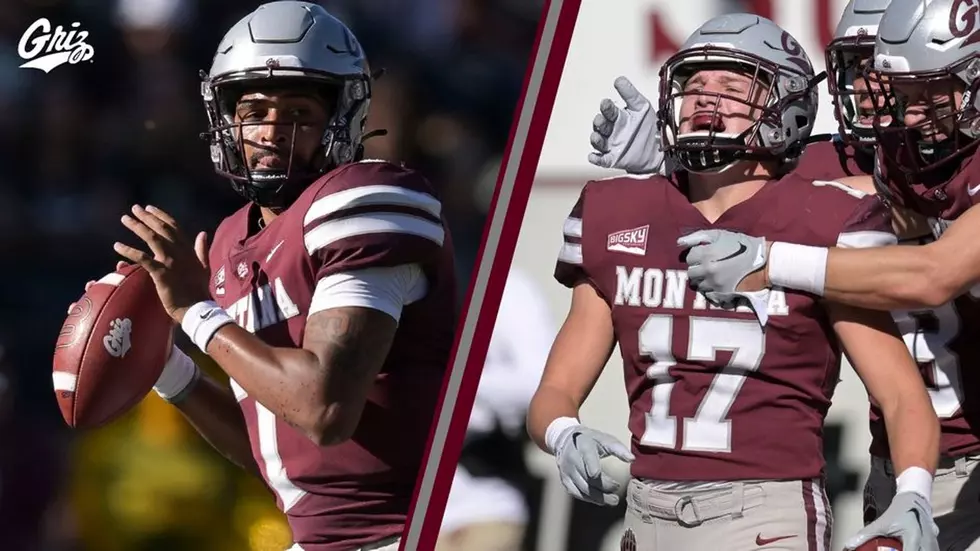 Two More Player of the Week Honors For Montana Grizzly Football
Image courtesy of U of Montana Athletics Sports Information
It was a very happy Homecoming. And not one, but two Big Sky Conference Player of the Week honors came along with the win.
University of Montana Sports Information Director Eric Taber tells us that today (Monday), Montana senior quarterback Lucas Johnson and senior safety Robby Hauck were the recipients of the latest weekly conference football honors. That already makes four differently Montana Grizzly weekly recipients so far this season. Any doubts there are more to come?
Eric says that following Montana's dominant 53-16 Homecoming win over the Portland State Vikings, Robby Hauck was named Big Sky Defensive Player of the Week for his multifaceted performance, as he made his way to the top of Montana's list for most career tackles in program history.
Not only did Robby record 7 tackles in the game to bring his career total to 402, he also  pressured the Portland State quarterback to make a hurried pass that resulted in a Griz interception that led to a touchdown a few plays later. But his showcase play of the game was the last play of the first half, when he set up in the end zone in the event the Viking 54-yard field goal attempt was short.
It was. Hauck returned the kick 99 yards for a touchdown to take Montana's lead to 39-14 at halftime.
Robby shared the weekly Defensive Player of the Week honor with Armon Bailey of Sacramento State.
On offense, Lucas Johnson led Montana with his accurate passing and precision running. Lucas started the day by completing his first 14 passing attempts. On the day, he was 20-26 for 221 yards and two touchdown passes. He also ran for a 10-yard TD, the first score for the Griz in the game.
After four games, Johnson leads the Big Sky in total offense with 1,021 yards of passing and running. He also leads the Big Sky and is ranked fifth nationally for "points responsible," tallying 85 of Montana's 173 total points so far this season. That's one of those stats you don't get bombarded with too often.
Congratulations to those two standouts and to the whole Griz team, now 4-0 on the season, heading into Pocatello for a road game at Idaho State this Saturday.
Every Montana Restaurant That Has Been Featured on Food Network
It's always awesome to see something from your hometown or state on TV. When Food Network comes to town, Montanans are ready. These restaurants have been featured.
You Can Rent a Cabin on the Ranch From 'Yellowstone' - See Pictures
The stunning Montana ranch that serves as the setting for the hit TV show Yellowstone offers cabins for rent, and the price includes tours of the set and ranch. Scroll below to see photos of the extraordinary property.