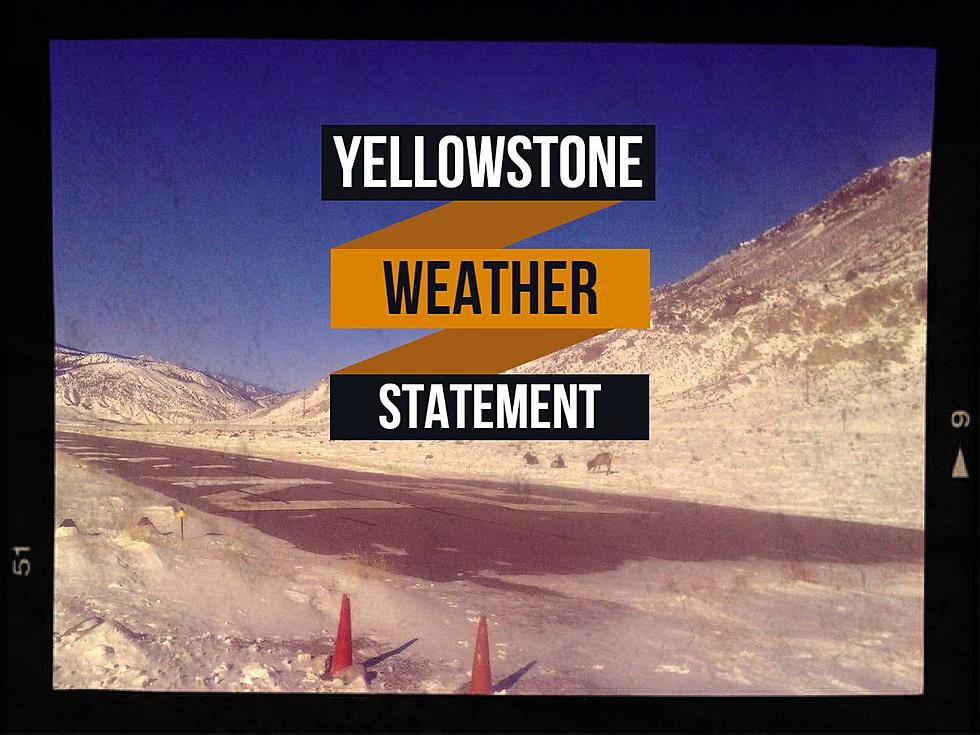 MONDAY: Up to 6″ Snow for Yellowstone National Park Area
Photo/Art: Michelle Wolfe
The weather is going to be pretty messy in and around Yellowstone National Park on Monday. Several inches of snow is expected to fall, with up to 6" in the highest elevations surrounding the Park. Driving conditions could deteriorate quickly if you're in the area.
This is a Special Weather Statement from the National Weather Service (as opposed to a Watch, Warning, or Advisory.) Snow may even continue into Tuesday, but Monday is the biggest concern as of now.
We all know it can snow in ANY month in Yellowstone National Park, but the snowiest months are a long way off (December, January, and February.)
According to the National Weather Service:
A Winter Storm will bring Snow to the Western Mountains beginning Monday afternoon.
This is a special weather statement from the National Weather Service Office in Riverton, Wyoming.
WHAT TO EXPECT...Snowfall amounts of generally 4 to 6 inches across the Salt and Wyoming ranges.
2 to 4 inches of snow is possible across the Tetons and Gros Ventres and 1 to 3 inches across the higher elevations in Yellowstone National Park.
WHERE TO EXPECT THE MOST SNOW...Western Mountains and Yellowstone National Park.
WHEN WILL THIS WEATHER IMPACT THE AREA...Late Monday afternoon through possibly Tuesday.
So what about the roads in and out of Yellowstone National Park? Here are the 2021 Fall closing dates for roads:
Roads will close to regular vehicles on the following dates in 2021 (Fall)
November 8th, 2021: All roads will close at 8 am EXCEPT FOR the road between the North Entrance and the Northeast Entrance of Yellowstone National Park.
WHAT ELSE WILL BE CLOSING: Travel east of Cooke City, Montana, to "Chief Joseph Scenic Byway" is possible ONLY until early November.
Roads are supposed to open on December 15th, 2021 to over-snow travel such as snow coaches and snowmobiles. (The roads will be open as of 8am that day unless otherwise noted.)
WHAT ROADS DOES THAT INCLUDE? "West Entrance to Old Faithful, Mammoth to Old Faithful, Canyon to Norris, Canyon to Lake, Old Faithful to West Thumb, South Entrance to Lake, Lake to Lake Butte Overlook, East Entrance to Lake Butte Overlook (Sylvan Pass)"
Adventures of Yellowstone National Park! Pictures That Make You Love The Park!
A trip to Yellowstone National Park is on almost everyone's list of "must-dos" when visiting the beautiful state of Montana! Check out these pics!