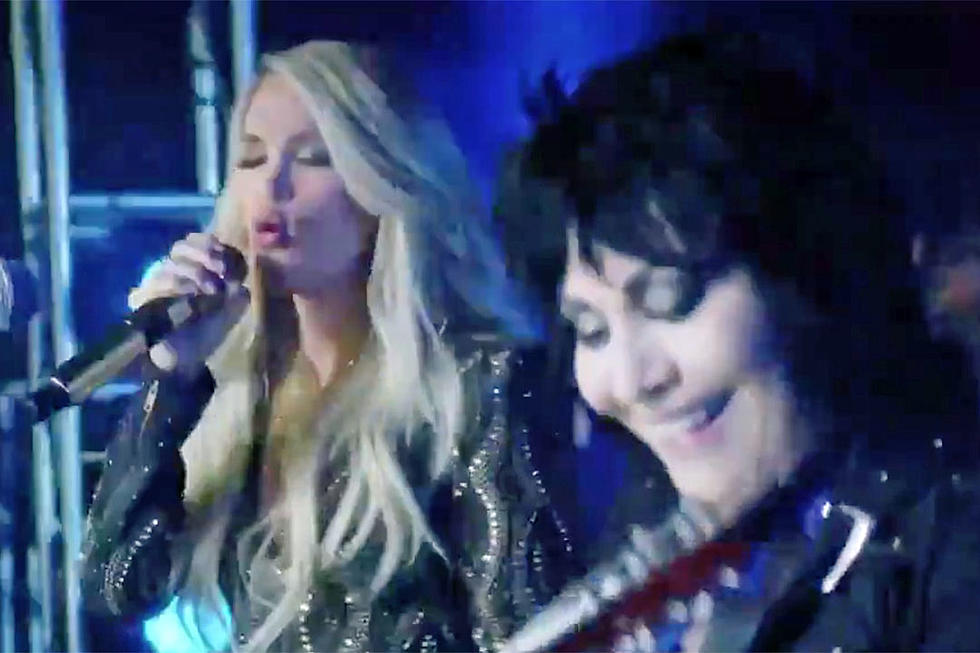 Carrie Underwood and Joan Jett's 'Sunday Night Football' Open Debuts [Watch]
Twitter/SNFonNBC
Carrie Underwood and Joan Jett share the cameras with more than a dozen NFL football players in the new Sunday Night Football theme song video. The clip debuted on NBC on Sunday night (Sept. 8) and was made available on social media afterward.
This year's Sunday Night Football opening sequence re-works Jett's "I Hate Myself for Loving You" into a song called "Waiting All Day for Sunday Night." It's the same structure as the song the network used for years before switching to a song called "Game On" in 2018. Underwood leads the video between shots of game action and athletes posing for cameras. The classic rocker first appears at the 38 second mark:
A preview of the Sunday Night Football opener first appeared two weeks ago, with the network revealing the full list of athletes that participated. It was filmed at Mercedes-Benz Stadium in Atlanta marking the first time a stadium has been used to film the sequence. Underwood says she's a longtime fan of Jett's and will use any excuse she can get to work with her. Last month the two shared a stage and TV time singing a medley of rock hits during the CMA Festival broadcast on ABC.
This year marks the 100th season of the NFL. Sunday Night Football on NBC has been airing since 2006, with Faith Hill singing the opening theme song for several years before Underwood took over. Look for a new version of the video each week as the network splices in footage of the two teams who are playing to customize the video. The song and many of the filmed shots involving Jett and Underwood will remain the same, however.
See Carrie Underwood + Joan Jett at CMA Fest:
Remember When Carrie Underwood Dated an NFL Quarterback?