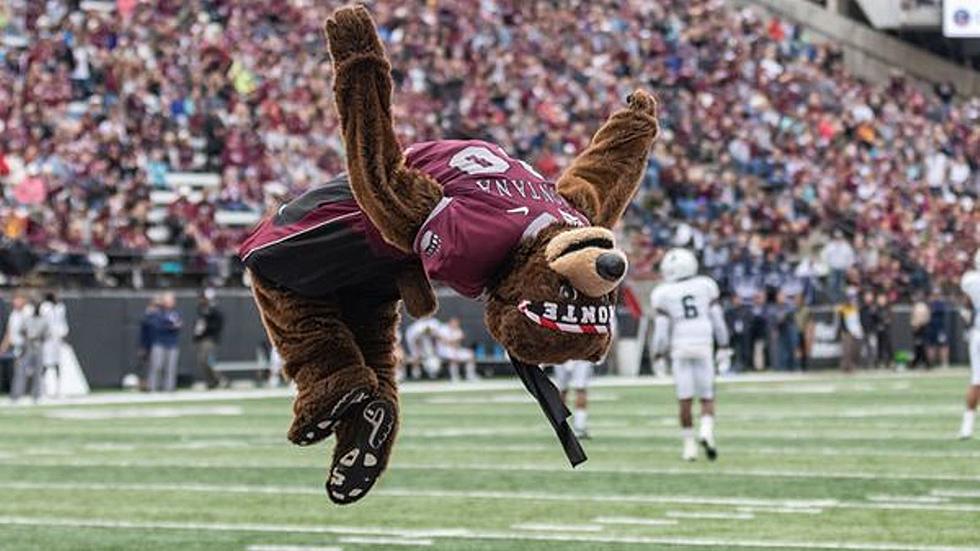 Kids Will Flip Over the Return of Monte the Griz Mascot Kids Club
Image courtesy of U of Montana Sports Information
After a brief hiatus, Missoula's most lovable bear invites your kids to get on board by joining an awesome club!
The University of Montana and Monte, the UM Grizzly mascot, are inviting youngsters to the return of Monte's Kids Club for the 2023-24 academic year, giving parents the opportunity to register their children for a unique membership. It's affordable, fun and there's some pretty cool benefits.
Monte's Kids Club is open to children 12 and under. An annual membership is only $25 for a first child, and then just $20 for each additional child.
Children who join Monte's Kids Club will receive benefits including:
>>>A member's only T-shirt
>>> A name badge and lanyard
>>>A Monte's Kids Club drawstring bag
>>>A birthday card signed by Monte, which will be mailed near your child's birthday
>>>Exclusive Montana Grizzly ticket offers, including up to 50 percent off men's and women's basketball, soccer, volleyball and softball games
Memberships are good from the date of purchase through July 31, 2024. So the sooner you sign up, the more time your kids will have to enjoy the club.
And Monte wanted to thank presenting sponsor SCHEELS. In fact, if you want to get a fast jump on membership, members will have the ability to pick up their membership items this Sunday, from 11:00 a.m. to 1:00 p.m., at the SCHEELS Griz Fest at Southgate Mall Missoula. Griz Fest is free and will feature appearances from Monte, UM's spirit squads and several Griz student-athletes and coaches.
But, first things first. To sign up, get even more details and see a cool Monte's Kids Club photo gallery here.
45 Missoula Businesses That Opened, Changed Ownership, Expanded, or Changed Location
Yes, there has been a lot of change with Missoula businesses since 2020. Here is an idea of the business growth that has taken place.
11 Montana Bumper Stickers You'll Want to Put on Your Car