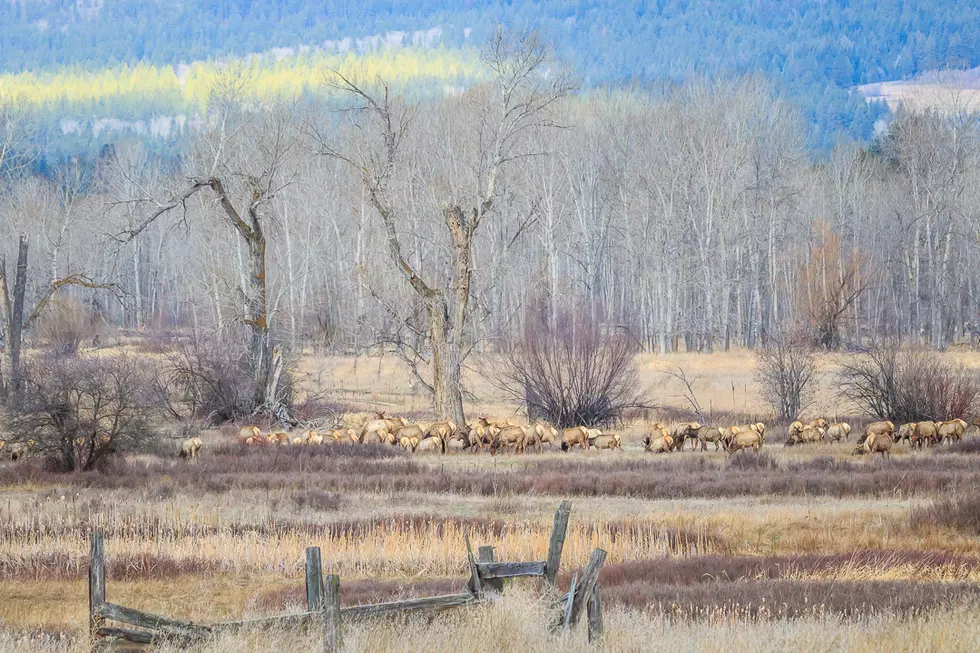 Montana's General Hunting Season Opens Saturday
An elk herd in the Bitterroot. (Mike Daniels, Townsquare Media)
Montana's general rifle hunting season starts Saturday, October 24 and will end November 29. The first weekend of the season will be snowy and cold , but it clears up soon after. The Bitterroot National Forest and the Montana Fish, Wildlife and Parks Department have tips to make your time out in the woods safer.
First of all, wear "hunter orange." That includes hat, cap, vest jacket or rain gear that is visable from all directions. That caution includes non-hunters like hikers or bikers. Get orange on your pets and horses that are with you, too. Know the regulations and follow them. The rules are different on federal, state and local land. For instance, on the Bitterroot National Forest, no hunting allowed on developed recreation areas or trailheads, including Lake Como and Bass Creek Recreation Area.
Always assume your firearm is loaded and always point the muzzle in a safe direction. When you shoot, be sure of your target, and what's beyond. Know where your hunting partner is at all times. Speaking of knowing where you are, make sure somebody knows your plans - where you're going, how long you're going to be gone and if you don't have someone in the area, leave your written itinerary in your parked vehicle. If you have trouble, this one step really helps Ravalli County Search and Rescue.
Cell phones don't work everywhere. When you get out in the far flung Bitterroot, you'll have plenty of places where there's no cellphone coverage. Carry with you these "10 essentials" - map, compass, flashlight, extra food and water, extra clothes, sunglasses, first-aid kit, pocket knife, waterproof matches and fire starter. Remember to "Pack It In, Pack It Out" and follow "Leave No Trace" tips.
Never drive off existing roads. There are plenty of seasonal restrictions this fall to help big game animals. If the road is closed, it's often to help the elk and deer populations. Also, there could be fines if you're found in a closed area. Oh, and driving back home, you MUST stop at the Darby check station. Fish, Wildlife and Parks are making it easier for you this year. Stay in your vehicle and they'll check what they need to check on the animal, get some info and let you on your way. And even if you weren't successful on your hunt, you need to stop by the check station.
Finally, never leave a smoldering campfire! Put it out! Our trees will thank you.
KEEP READING: Check out these totally awesome '80s toys