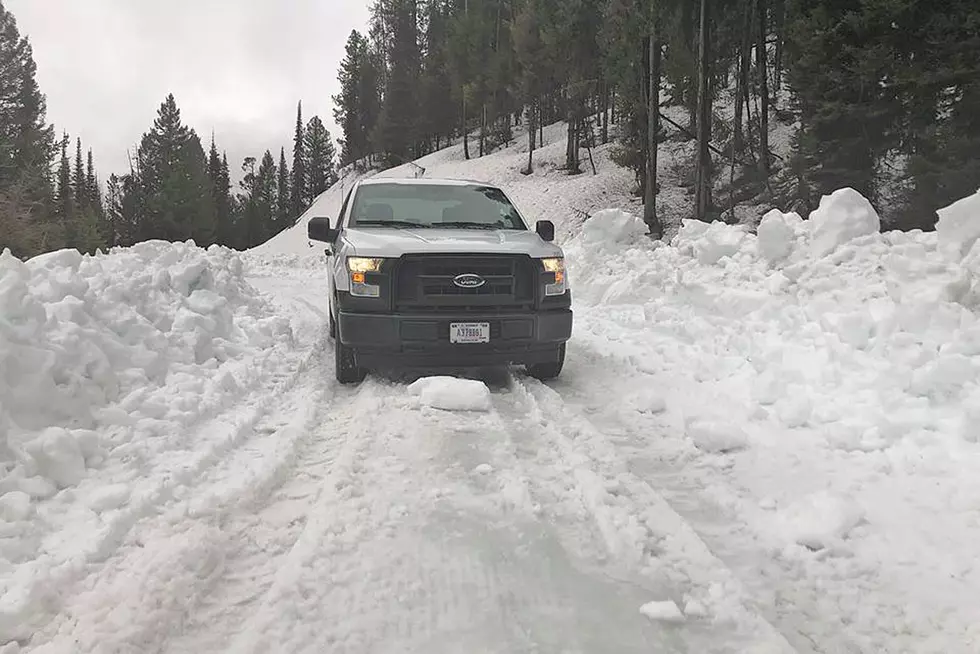 Memorial Day Weekend on Bitterroot National Forest
One-lane traffic on Nez Perce Pass. (Bitterroot National Forest photo)
The Bitterroot National Forest has a variety of conditions on this Memorial Day weekend 2020 - as you might expect with 1.6 million acres and 26 campgrounds. On the extremes - snow in the upper elevations, such as Nez Perce Pass up the West Fork into the Magruder Corridor (see photo above) to some flooding at Spring Gulch Campground along the Bitterroot River on the Darby/Sula Ranger District. However, most campgrounds are open for the weekend, according to Public Affairs Officer Tod McKay. McKay told KLYQ News that the COVID-19 restrictions continue and forest visitors are asked to avoid congregating at trailhead and parking areas. No groups of 10 or more, please. The user fees are back in place at the Lake Como Recreation area - $5 per car per day (get the $30 season pass instead). The Como boat launch will be installed next week, by the way.
Elsewhere, use caution and have some courtesy on the narrow forest roads. Use only designated routes and stay off the muddy roads. Avoid the swift-moving streams and rivers, such as the high water flooding the popular Spring Gulch Campground (see photo below). Creek crossings are also dangerous in places. Before you head out to your favorite campsite, call ahead to the district ranger station and see if it's open. Also bring your own drinking water and "Pack it in, Pack it Out" when dealing with food and trash. Don't leave your campfire unattended. Forest fires can start even early in the season. Check the Bitterroot National Forest website for more information. Their Facebook page is really good, too. Be safe and enjoy!
From the folks at 94.9 KYSS-FM, more outdoors suggestions!
5 Places to Take Your RV in Montana