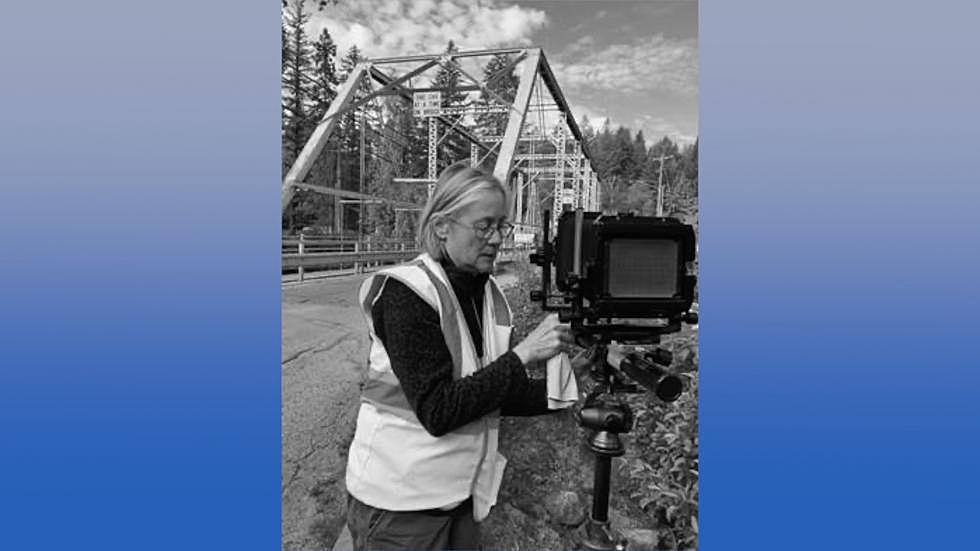 Hear the Stories Behind Montana Historic Bridge Photos
Kristi Hager; H. Rafael Chacón photo from Missoula Art Museum
Today, we're used to snapping photos with our phones. Boom. Quick. Then off to the next attraction.
But imagine spending an entire day photographing a piece of history from every angle, waiting until the light is perfect, and creating a record that could be important a century from now.
That's what Missoula painter and photographer Kristi Hager did, spending the better part of 20 years creating a permanent record of the bridges, roads, and power plants that helped to "modernize" Montana after pioneer times.
And Thursday night she'll share the stories of those adventures.
A selection of Hagar's photos, pulled from over 600 taken for the Historic American Buildings Survey and currently stored at the Library of Congress, have been turned into a traveling exhibit that is now on display at the Missoula Art Museum.
The "For the Record: Photographing Montana's Historic Bridges, Powerhouses and Missile Sites Inside and Out" tells the story behind the photos. And the orders were to not do "run and gun" photography, which shows in the quality of the photos, taken with a classic 4x5 "view camera"…
"They don't want you to stand the camera up and take a casual picture," Hagar explains. "They want you to make it beautiful as well."
That can take hours of work
Hager often spent an entire day at each structure. Since retired, she says she'll still some of the remaining bridges while traveling across the state.
"It's like seeing an old friend. Because when I photographed them I'm pretty much there all day, to do one bridge. I'm there from say, 9 in the morning to 4 in the afternoon. Because I sort of have to follow the sun around the bridge, to get the best shots."
Her bridge photos tell the story of "old Montana"
"These bridges didn't exist. And once they came in they could completely change what was possible," Hagar observes. She notes in cases like the Yellowstone Valley, most of the growth was along the railroad on the south side of the river, and people could only cross to the north by ferry, or swimming a horse.
"These bridges just open up huge possibilities for people."
Appearance tonight
Hagar will appear at the Missoula Art Museum in a presentation set for 5 to 7 pm Thursday evening during an extended opening with a no-host bar.
The exhibit will be at MAM through mid-May and then travel to Explore the Arts in Hamilton, Holter Museum of Art in Helena, and MonDak Heritage Center in Sidney through 2025. Funding is provided by Montana Art Gallery Directors Association.
15 Montana T-Shirts to Wear and Show Your Montana Pride
Whether you're looking for humor or a great design, wearing t-shirts that celebrate Montana is a surefire way to show your love for the state.