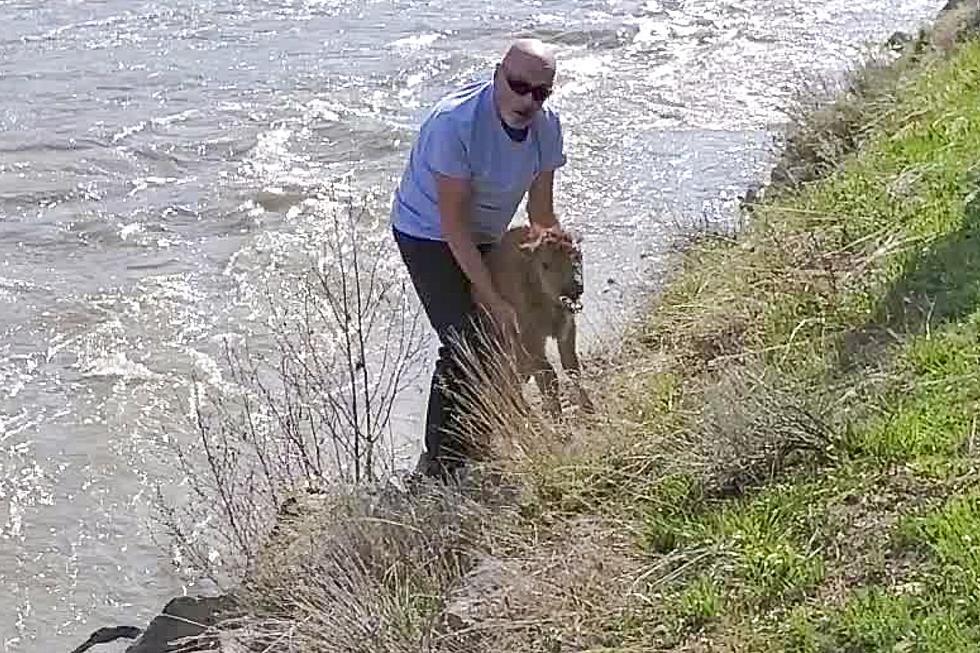 Bison Calf Put Down After Yellowstone Tourist Decides to Carry It
Picture from Yellowstone National Park
Summer hasn't even officially started, and already the "what-were-they-thinking" tourist stories are coming out of Yellowstone National Park.
And the latest is another prime example of a "well-meaning" tourist actually leading to the death of one of the park's iconic critters.
Yellowstone National Park rangers are hoping to locate an unidentified man who decided to apparently "help" the calf find its way after being separated from its mother.
Rangers say the man, probably in his 40s and wearing a blue shirt and black pants, was seen approaching the newborn bison calf in the Lamar Valley near the confluence of the Lamar River and Soda Butte Creek. They say the man was seen pushing the struggling calf up the river bank and onto the road. Visitors said the calf then started to follow cars and people.
Rangers tried to get the calf reunited with the herd but weren't able to since wildlife will frequently reject young ones if they've interacted with humans. In this case, the calf had to be destroyed because it was abandoned by the herd, and was creating a hazard on the busy road.
Park rules to keep people, and animals, safe
Park regulations say people have to stay at least 25 yards away from wildlife like bison and elk, and 100 yards from bears and wolves. While that's mainly for safety, it also helps in cases like this one.
Rangers are hoping to hear from anyone in the Lamar Valley on the evening of May 20th with information that could help their investigation. You can call the Yellowstone National Park tip line at 307-344-2132 or by email at YELL_Tip@nps.gov.
Yellowstone National Park Rebuilds After Historic Flooding
After catastrophic flooding damaged portions of Yellowstone National Park in June of 2022, major reconstruction was necessary to make the park passable again. The following are photos of the improvement projects at Old Gardiner Road and the Northeast Entrance Road. All photos are courtesy of the National Park Service, photographer Jacob W. Frank.