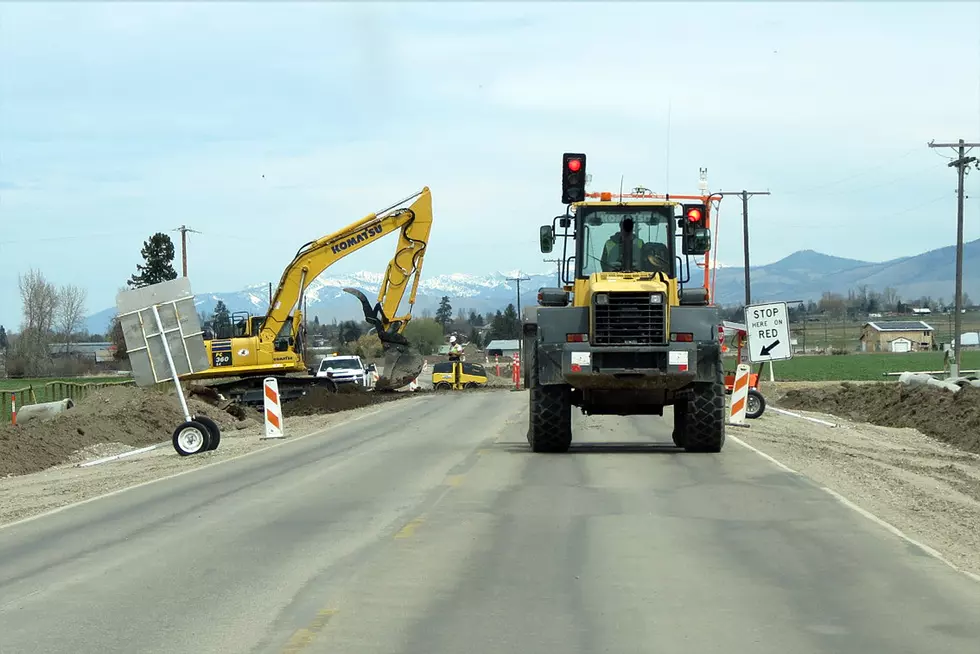 Road Work Planned on US 93 South in Bitterroot
Road construction. (KLYQ File Photo, Townsquare Media)
"Ya can't get there from here." Starting Monday, May 16, that tag line from an old joke might come true for some travelers in Ravalli County. But for most of us, there will be slight delays because of a project of the Montana Department of Transportation.
A construction project on a U.S. 93 bridge about 5 miles south of Conner will cause only one-lane traffic on the major Bitterroot Valley highway for about three months. And the lane restriction will be 24-hours a day. If your vehicle is over 9 feet wide, turn around.
The Montana Department of Transportation, along with L&J Construction, issued the construction advisory earlier this month and said the bridge deck needs repair, along with other improvements of the aging structure.
The location, 5 miles south of Conner, is from Mile Marker 17 to Mile Marker 18. There will be a signal light, and the speed limit through the construction zone will be 25 miles per hour. Officials also said to expect some 15-minute delays.
The valley is narrow at that site and there is no nearby detour. If you need more information, the Missoula District Public Relations Specialist has a phone number - 406 396-1978.
Stevensville South Project
The other major project in the Bitterroot Valley is the Stevensville South Safety project on the East Side Highway (Highway 269). There continue to be two major areas of work at either end of the 6-mile road improvement project. Signal lights and pilot cars have been getting regular use to get traffic through some of the major construction sites. That will continue. But you do have the option of a detour in that situation - US 93 runs parallel past that area of the valley.
Montana residents have always known that the state's summer season is often called "construction season." And that's the case again this year. Bitterroot folks are not alone. The Montana Department of Transportation website shows projects throughout the state, and it's updated regularly. We counted at least six projects along Interstate 90 alone.
Our advice is to have patience, and if you're delayed, sit back and enjoy the scenery of Big Sky Country. In the construction zones, please drive slowly and watch out for those guys who are working to improve your roads.
Photos from Yellowstone National Park
Yellowstone is a national treasure and photos don't do it justice - but we're going to try anyway!
LOOK: Route 66's quirkiest and most wonderful attractions state by state
Stacker
compiled a list of 50 attractions--state by state--to see along the drive, drawing on information from historic sites, news stories,
Roadside America
, and the National Park Service. Keep reading to discover where travelers can get their kicks on Route 66.