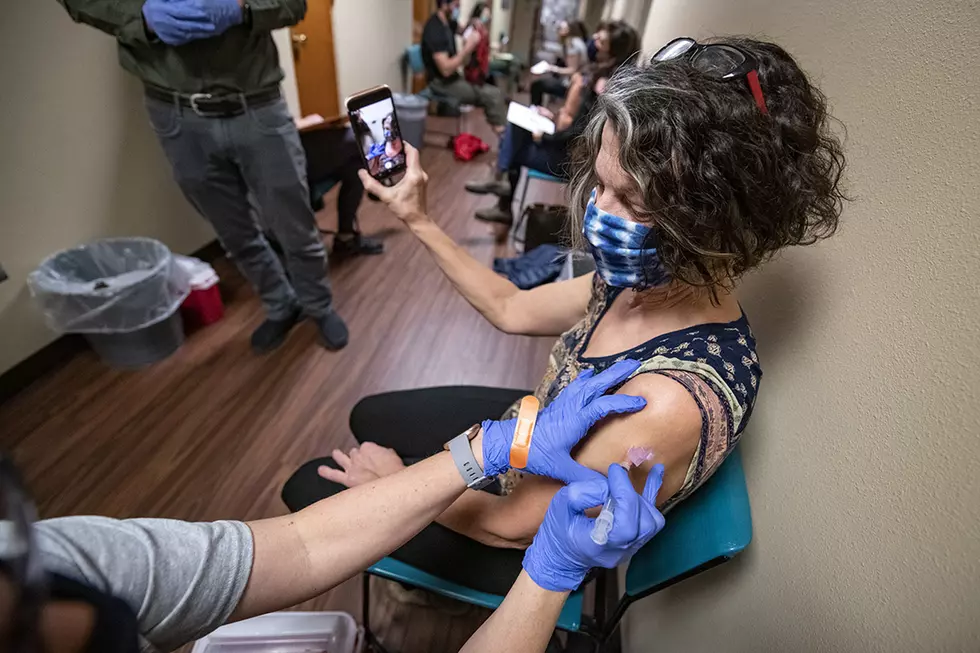 Health Officials Urge Patience About COVID-19 Vaccinations
UM Vaccination. (Photo Provided by UM)
Ravalli County and Missoula County Public Health Departments have been overwhelmed with phone calls about COVID-19 vaccination schedules. And both departments are asking the public to quit calling. Instead, Ravalli County Public Health Director Tiffany Webber said that in Ravalli County, the staff has started an online appointment and waiting list for those who are requesting appointments.
The Ravalli County vaccinations have started for the healthcare workers and first responders, but there is a limited supply. Webber said that as the department works to coordinate an efficient distribution program, they are starting an online way for you to request information and possible appointments. The email address is: rcpublichealth@rc.mt.gov
When you send the message, make sure you include your name, date of birth and phone number, along with your request. The staff will then contact you as soon as possible.
Ravalli County is scheduling Phase 1A and 1B categories. More details about those eligible for this part of the vaccinaton plan are at the Montana DPHHS site, Webber noted. The recently updated CDC categories are detailed there. You can get an idea if you are included in those being vaccinated at this time.
Meanwhile, in Missoula, at the University of Montana, the first round of vaccinations have started for people on campus in the 1A category (photo above). UM Pharmacy Manger Kenneth Chartriand said over 100 doses of the Moderna vaccine have been administered to University employees "who are considered health care personnel or have, close regular contact with COVID-positive persons as essential workers." That includes police who are often transporting COVID-positive students. Chatriand is working with Missoula College nursing students, students at the pharmacy and UM's College of Health programs to organize the vaccine distribution. He's expecting more Moderna vaccines next week.
And, both Montana U.S. Senators Jon Tester and Steve Daines announced $71 million for Montana to support distribution, testing, contract tracing, surveillance and containment of the COVID-19 virus. The money is from the year-end COVID-19 relief and stimulus package passed by Congress.
Check Out These Cute Quarantine Buddies