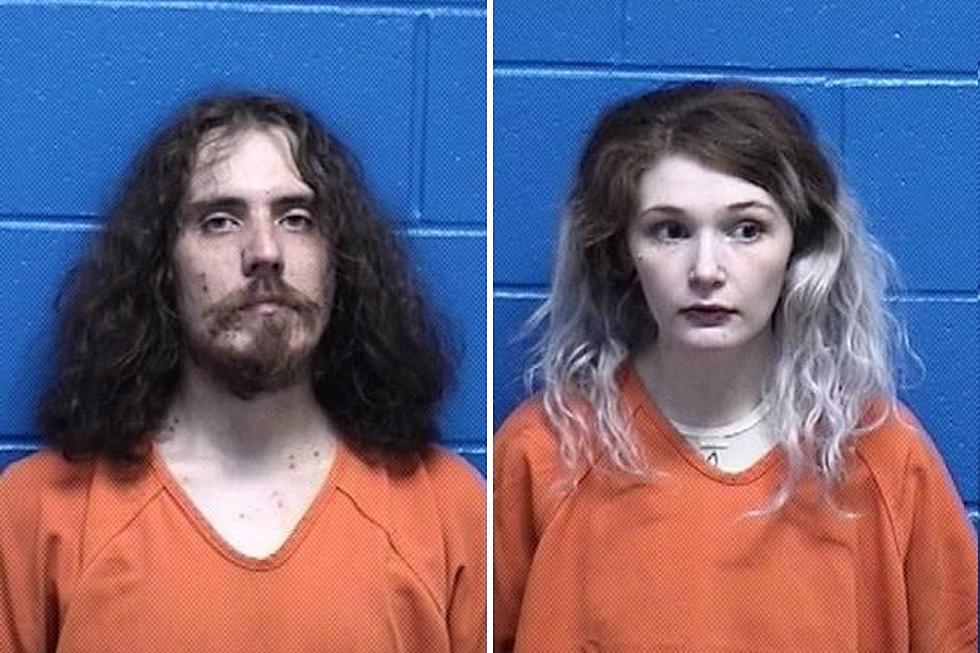 Couple Allegedly Had Drugs and Uncapped Syringes Near a 5-Year-Old Child
Photo Courtesy of the Missoula Jail (Potter and Rees)
Just before 3:00 p.m. on Friday, Missoula Police Officers were dispatched to an apartment in the 1900 block of South 3rd Street West for a suspicious circumstance investigation. The complainant reported a male and female were acting sporadic while in the company of a child. She said she believed the female was under the influence of an unknown substance. Police Public Information Officer Travis Welsh explains.
"The complainant described all three of them going into an adjacent apartment as the officers were responding," Welsh said. "When they arrived, they were directed to this specific apartment where they made contact with three individuals. The first was 25-year-old Kayden Rees and the second was 33-year-old Burke Potter. They also noted that the little boy was sitting in the apartment watching TV."
One officer immediately observed that the child was next to a coffee table that had two large butcher knives laying in plain view.
"While the officers were in the presence of the two adults, they began to make inquires and began to develop a suspicion that the two were engaged in drug activity that could possibly place the child at risk," Welsh said. "They gathered evidence at the scene that included numerous items of paraphernalia, all of which represented a danger to the 5-year-old boy."
One officer found a backpack that contained a large amount of used hypodermic syringes and some of the syringes were uncapped. The officer believed the child was capable of opening the backpack and subjecting himself to not only the drug residue located inside, but also the uncapped syringes.
In addition, the officer located two digital scales and several unused suboxone strips that were also in reach of the child. The officer continued searching and located two containers under the dresser. Both containers had several hypodermic syringes and some were uncapped. These containers were obviously within reach of the child and one container didn't even have a lid on it. According to court documents, the officer believed that if one of the child's toys had rolled underneath the dresser he could have easily become injured based on the amount of syringes that were found there.
In a lower drawer, there were two spoons with what appeared to be drug residue. The substance on the spoon was dark and a small piece of cotton was stuck on both spoons.
The officer then took a closer look at the coffee table. In plain view was a hypodermic syringe. He moved a bag of candy and noticed the syringe was uncapped. He believed the child could have easily taken custody of the syringe and injured himself.
A records check of Rees revealed officers responded to her apartment on March 6, 2020 due to Rees overdosing on drugs while the child was present. Potter disclosed both Rees and himself were drug users. He said they use whatever is available, but he doesn't like how methamphetamine makes him feel.
Rees and Potter were arrested and both were charged with felony endangering the welfare of a child, felony criminal possession of dangerous drugs, and criminal possession of drug paraphernalia.
The child was turned over to child protective services and a pet dog was taken by animal control.
LOOK: Here are the 50 best beach towns in America
Every beach town has its share of pluses and minuses, which got us thinking about what makes a beach town the best one to live in. To find out,
Stacker
consulted
data from WalletHub
, released June 17, 2020, that compares U.S. beach towns. Ratings are based on six categories: affordability, weather, safety, economy, education and health, and quality of life. The cities ranged in population from 10,000 to 150,000, but they had to have at least one local beach listed on TripAdvisor. Read the
full methodology here
. From those rankings, we selected the top 50. Readers who live in California and Florida will be unsurprised to learn that many of towns featured here are in one of those two states.
Keep reading to see if your favorite beach town made the cut.