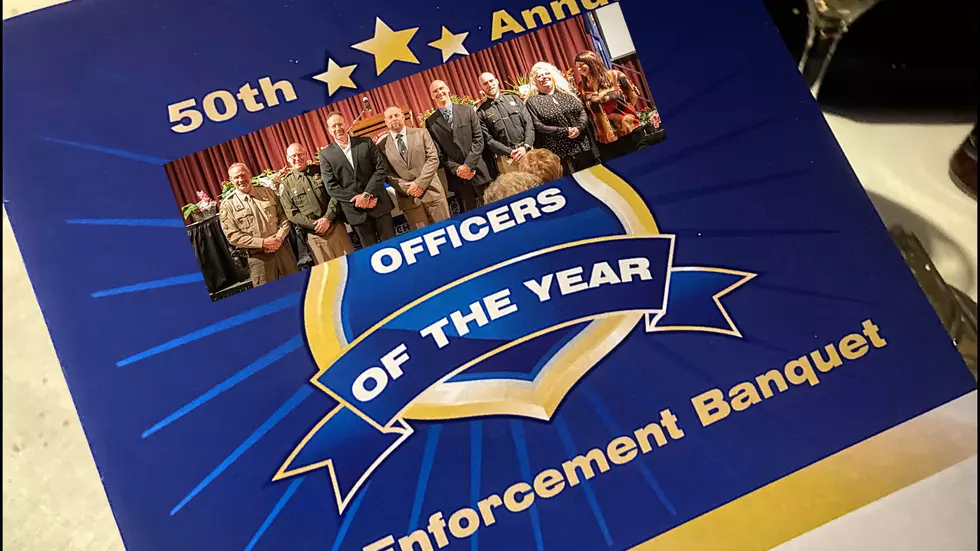 Missoula Area Officers Praised for Dedication, Faith and Service
Jeanette Smith photo
With phrases like faithful, sincerity, and integrity, a handful of Missoula area law enforcement personnel are being honored as "Officers of the Year" in a ceremony that has paid tribute to hundreds of their colleagues for half a century.
Thursday night, members of the Exchange Club of Missoula gathered with members of agencies including Missoula Police, Missoula County Sheriff's Department, Montana Highway Patrol, and the University of Montana Police at the 50th anniversary of the donner that started in 1972.
It's a night to not only honor the current uniformed officers for their service but dispatchers, parole officers, and others working in the justice system, as well as officers like Dave Fowlkes and Rick Newton, who have continued to serve even into retirement.
This year's honorees are carrying on the legacy
In all cases, the Officers of the Year were acknowledged for carrying other their regular duties, but involving themselves in extra efforts like training, problem-solving, helping victims, or resolving extremely difficult and dangerous cases.
This year's Officers of the Year included:
Missoula County 911: Anna Lechleitner
Lechleitner was recognized for her positive attitude as a dispatcher and praised for helping save the life of a suicidal caller last year.
Montana Highway Patrol: Trooper Robert Strauch
Trooper Strauch was awarded for his "trustworthiness" and "dependability". In addition to his work during a 20-year career with the MHP training other troopers in driving and conducting accident investigations, Strauch was of the two troopers who found Trooper Wade Palmer when he was shot and critically injured in 2019, helping to save his life.
Probation and Parole: Officer Carrie Hegenbath
Officer Hegenbath was recognized for her involvement in the Intensive Supervision Program, which works with the most dangerous parolees and violent offenders, helping those who are "sincere" about changing their lives. She's also worked on statewide leadership and training of other parole officers across Montana.
Missoula Police Department: Officer Jay Gillhouse
Gillhouse has been the Business Improvement District Officer since 2018 and the Critical Incident Team trainer for MPD. His supervisor acknowledged how Gillhouse"s "relationships and partnerships he's developed" with downtown businesses, the Poverello Center, and others in addition to helping the homeless and the mentally ill.
University of Montana Police Department: Officer Robert Scheben
Scheben, a veteran of MPD who joined the UM Police was recognized for giving a good "level of safety and security" for the college's students and staff, but also the tens of thousands of people who visit the campus for sports and other events. Police Chief Brad Giffin noted how Scheben's determination helped the victim of an assault case, but also located a suspect wanted in a string of sexual assaults across Missoula, leading to his "permanent removal from the community."
Missoula County Sheriff's Office: Scott King & Matthew Bodily
King was described as a "faithful" officer who has worked in many areas, including Patrol Sergeant, the Drug Task Force, Search and Rescue, and more. But he was especially praised for his "compassion" as a coroner, handling 212 calls since 2016, including 49 in one year.
Bodily was called an "integral part" of the Sheriff's Office as a training officer, "invested in his team's growth", with "utmost dedication" as a "valued leader."
Montana Fish, Wildlife and Parks: Sgt. Dan Curtin
Curtin has been a warden for more than 3-decades, with his supervisor saying "his dedication to the people of Montana is unparalleled." He was awarded for his support of his fellow wardens, his "wisdom" in doing the job and making suggestions and serving communities from Mineral County to Seeley Lake "with a smile." He received special praise for handling a standoff with an armed suspect and keeping his fellow officers safe last year.
LEARN MORE: The Exchange Club of Missoula on Facebook
Missoula Law Enforcement Officer of The Year Awards 2023
Exchange Club of Missoula Honors Brave Officers For Their Service