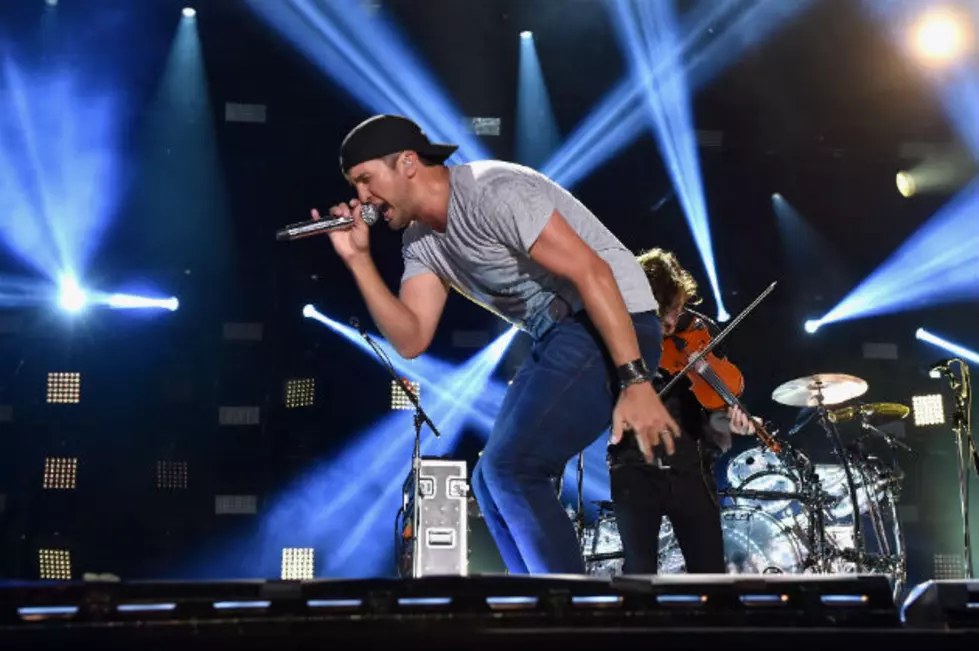 Country Goes Rock During 'CMA Fest: Country's Night to Rock' Broadcast
Larry Busacca, Getty Images
Country's hottest stars helped fans relive CMA Music Fest 2014 on Tuesday night (Aug. 5). Little Big Town hosted 'Country's Night to Rock' on ABC. They interviewed artists and showcased some of the festival's biggest performances.
Who better to start off the recap of CMA Music Fest with than Miranda Lambert and Carrie Underwood? The duo kicked off the night on TV looking their very best -- Lambert donned her Ani and Ari rhinestone corset and black shorts while Underwood wore a gold fringe top with black shorts -- while LBT highlighted their separate careers. Their performance of 'Somethin' Bad' was not only energetic and fun, it was also one of the highlight's of the festival -- the song had just been introduced, if you remember. Lambert also took the same night to perform 'Automatic,' before a wild performance of 'Little Red Wagon.'
CMA Fest was also an important week for three handsome country men. Brantley Gilbert had his boys Thomas Rhett and Justin Moore join him on stage for their song, 'Small Town Throwdown,' which is on Gilbert's 'Just As I Am' album. It was the very first time all three sang the song together live.
Gilbert also performed his fun song, 'Bottoms Up,' for the same crowd -- the blue lights and microphone knuckles had viewers at home talking and tweeting. TR also headlined the stage for his first time singing, 'Get Me Some of That,' which he did very energetically. The crowd helped him sing several lines of his hit song.
The hosts for the evening then drove around in their golf cart to give Blake Shelton a surprise before his performance. Instead of an artist escort, they showed up to guide him along the way. They all stopped to take photos with fans and sign a few autographs before hitting LP Field. Finally, when Shelton arrived at the festival he was met by Gwen Sebastian to perform 'My Eyes' in front of blue light beams.
The lovely ladies of LBT took a few moments to talk with country great Tim McGraw backstage and chatted about his song, 'Meanwhile Back at Mama's.'
"I knew I wanted Faith to sing on it," he tells the women. They joked around with him about how good he looked asking if they could measure his body fat -- and then literally measuring his bicep. That same night, he was joined on stage by his gorgeous wife Faith Hill. The crowd cheered enthusiastically as they serenade each other on stage. They held hands and hugged as they ended the performance.
Little Big Town did double duty during the three-hour show. They performed their summer song, 'Day Drinking,' and were backed by a big sound! They had a full drum line in the Music City Mystique from Nashville, Tenn., while they performed the song. They like they had a blast.
It wouldn't be a CMA Fest party without a little Luke Bryan and the singer took a moment to talk with LBT's Jimi Westbrook backstage before his performance. Bryan told Westbrook about his latest No. 1, which he called "crazy" saying "It's fans making your dreams come true." Westbrook showed Bryan his face on 'People' magazine saying he was country's sexiest man -- so Westbrook couldn't resist an autograph. Bryan joked that he would eventually get there one day, now he could win 'Most Improved' before he took the stage to play 'Play It Again.' Bryan also played his hit song, 'Roller Coaster.'
Florida Georgia Line were in for quite a treat the night they played the Tennessee Titans stadium. "We're amazing," the duo's Tyler Hubbard said adding that they were "crazy as ever." They were then presented with their plaque for selling 7 million singles of their huge hit, 'Cruise.' "Oh my God," Brian Kelley said when he saw the plaque.
The popular duo then played ''Round Here' surrounded by colorful lights and a dancing crowd. Brian Kelley looked especially country in his vintage Alan Jackson cut off t-shirt. They then played 'This is How We Roll' even though they didn't have their third member of the song -- Mr. Luke Bryan. Kelley instead took over Bryan's parts.
Zac Brown Band had quite a big night during the festival. They didn't just play this song, 'All Alright,' they also asked 'Wanted Dead or Alive' with Bon Jovi's legendary guitarist, Richie Sambora. Country and rock truly collided on this one, and again during Justin Moore and Vince Neil's duet of 'Home Sweet Home.' Earlier Lzzy Hale joined Eric Church for a emphatic performance of 'That's Damn Rock and Roll.'
Darius Rucker ended the evening with 'Radio' and his version of the country classic 'Wagon Wheel.' Along the way Paisley and Underwood were confirmed as hosts for the 2014 CMA Awards, also on ABC. Look for that awards show on November 5.
Watch: The Best of Country Music 2014