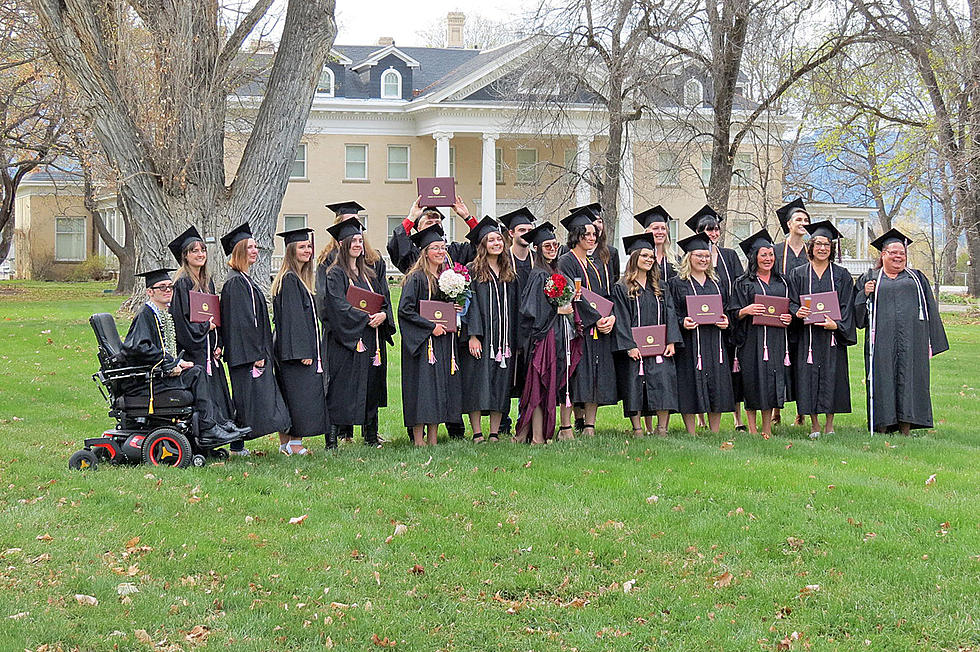 Bitterroot College UM Held Graduation Friday
Bitterroot College graduating class at Daly Mansion. (Steve Fullerton, Townsquare Media)
Friday afternoon, with lots of cheers, applause and smiles, about 20 graduates received their diplomas from the Bitterroot College University of Montana. The ceremony was held at the large summer tent on the Daly Mansion grounds and is the traditional setting for the annual spring graduation of the college in Hamilton.
The full house of friends and families also also celebrated the 2020 graduates who didn't have a ceremony due to COVID-19 last year.
Matt Kahler, who has been teaching college composition, creative writing, film and literature since 2013, was the Faculty speaker and Meri Telin, who is also the college's Enrollment Specialist, was the Student speaker. She also recently received the 2021 Outstanding Staff Award from the University of Montana.
The ceremony also included Advanced Degree presentations to College Director Victoria Clark, along with Jared Norwood, Jon Swallow and Mera Crowther. The graduates wore cords that designated their grade point average - Bronze for 3.4 GPA, Silver for 3.9 GPS and Gold for 3.9 and over GPA. Red, White and Blue cords were for US Military and Veterans. Pink cords were for Bitterroot College.
The Keynote speaker was State House Representative from Ravalli County Dave Bedey, who has also been on the Hamilton School Board. Bedey also has an Masters degree in National Security and Strategic Studies from the US Naval War College and a PhD in Space Physics. A special award was given to Ravalli County Senator Jason Ellsworth, who, along with Bedey, successfully shepherded a bill through the recently concluded Montana legislative session that creates the Bitterroot Community College District. Trustees, who were elected in an election last year, will be sworn in this month as the district begins its journey to taking over local control of the classes.
READ ON: See the States Where People Live the Longest
Read on to learn the average life expectancy in each state.