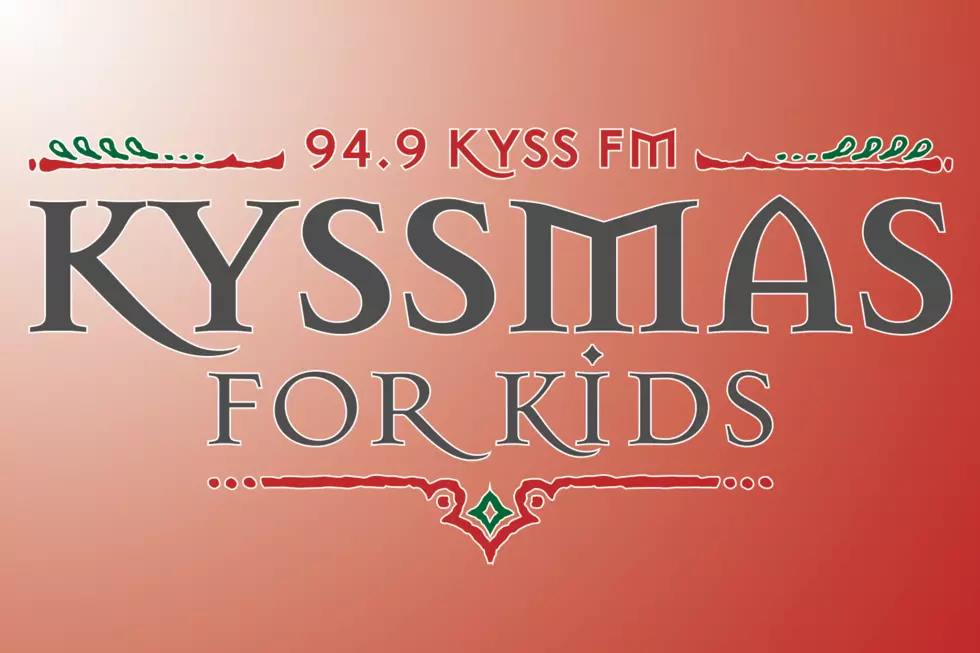 KYSSMAS for Kids 2018 Full Auction Listings
Townsquare Media
Every year, 94.9 KYSS FM teams up with the Missoula community to present KYSSMAS for Kids, a on-air auction to raise money for local kids in need–giving presents to those children who would otherwise go without.
We'll be live for thirteen hours on November 30, 2018, and here are all the items that will be up for auction, when they'll be available for bids, and their retail value. 100% of proceeds will go to local children in need, providing them with a gift card for a private shopping event near Christmas Day. The more you buy, the more children we can support!
CALL (406) 
523-9818

 OR (406) 

523-9843

 TO PLACE BIDS
Special thanks to all of our advance donors, including Jimmy Johns, Jim McGowan of Windfall Inc., Missoula Electric Cooperative, Kevin Bailey of Exit Realty, Rick Evans of Garden City Funeral Home, Direct Source, PayneWest Insurance, Monida Healthcare Network, TrailWest Bank of Lolo, Properties 2000, Star Rental, Farmer's State Bank, Capital Family Mortgage, Morrison-Maierle Systems, Morrison-Maierle Inc., Alphagraphics, John Brauer of Windermere Real Estate, Kris Hawkins Real Estate, Dave Brushe, First American Title, Robert D Smith, Tony Mangan of Mangan & Reich Health Plans, Scooter Smith, William and Barbara Samsoe.
Want to stay up to date with everything KYSSMAS? Make sure you've downloaded our free 94.9 KYSS FM app for updates throughout the event!
Chris Stapleton Signed Guitar

Special Donation Drawing

Every cash donation made to KYSSMAS for Kids from 6:00 A.M. to 6:00 P.M. will earn entries towards our special drawing for an exclusive guitar signed by Chris Stapleton. Click for image. (One entry per $10 donated, minimum $10 donation.) 

Grant Creek Lodge Getaway

All Day (6:00 A.M. - 7:00 P.M.)

$2,000.00 Value

3 nights' stay at a 5-bedroom lodge for 2-16 guests. Includes cleaning fees and lodging tax. Find more information at www.grantcreeklodge.com.

Water Heater with Installation

All Day (6:00 A.M. - 7:00 P.M.)

$1400.00 Value

Provided by Right Now Plumbing and Heating.

Fort Peck Getaway

All Day (6:00 A.M. - 7:00 P.M.)

$800.00 Value

Click for image. 1 night's lodging at Fort Peck Hotel, 2 tickets to the 2019 Fort Peck Summer Theater, and a Great Lakes Open Biplane sightseeing tour.

Madison Creek Furnishing Cowskin Desk

All Morning (6:00 A.M. - 12:00 P.M.)

$1,000.00 Value

Snowbowl Season Pass

All Morning (6:00 A.M. - 12:00 P.M.)

$686.00 Value

1 adult season pass for Snowbowl's 2018-19 season.

iPhone Everything Pack

All Morning(6:00 A.M. - 12:00 P.M.)

$605.00 Value

Click for image. Includes iPhone 6S, carrying bag, accessories, wireless charging station, and virus removal and system cleaning service. Provided by iTECHu.

Hudson Family Show Pigs Half Hog

All Morning (6:00 A.M. - 12:00 P.M.)

$300.00 Value

Case of Assorted Wines

All Morning (6:00 A.M. - 12:00 P.M.)

$200.00 Value

Click for image. Includes twelve assorted bottles of wine. Provided by Tim & Exie France of Worden's Market and Deli.

Scotch or Bourbon Tasting

All Afternoon (12:00 P.M. - 6:00 P.M.)

$500.00 Value

6 to 8 varieties, up to 10 participants, presented at your home or at the Rhino. Offer expires May 2019. Provided by Kevin Head.

Full Pallet of Magnesium De-Icer

All Afternoon (12:00 P.M. - 6:00 P.M.)

$400.00 Value

49 bags at 50 lbs. each. Provided by Whip Supply LLC.

Dustin Overgaard Abstract Framed Print on Canvas

All Afternoon (12:00 P.M. - 6:00 P.M.)

$300.00 Value

Click for image. Framed 3x5' reproduction on canvas of acrylic painting by Opportunity Resources' Dustin Overgaard. Provided by Missoula Federal Credit Union.

Hudson Family Show Pigs Half Hog

All Afternoon (12:00 P.M. - 6:00 P.M.)

$300.00 Value

Case of Assorted Wines

All Afternoon (12:00 P.M. - 6:00 P.M.)

$200.00 Value

Click for image. Includes twelve assorted bottles of wine. Provided by Tim & Exie France of Worden's Market and Deli.

4-Wheel Alignment

6:00 A.M. - 7:00 A.M.

$130.00 Value

Provided by Denny Menholt University Honda.

Pair of Lost Trail Powder Mountain Tickets

6:00 A.M. - 7:00 A.M.

$90.00 Value

Runner's Edge GC

6:00 A.M. - 7:00 A.M.

$50.00 Value

Provided by Anders and Meg.

Bagels on Broadway GC

6:00 A.M. - 7:00 A.M.

$40.00

Christmas Wreath

6:00 A.M. - 7:00 A.M.

$35.00 Value

Popcorn Gift Bucket

6:00 A.M. - 7:00 A.M.

$32.00 Value

Click for image. Includes caramel, tangleberry, and huckleberry popcorns. Provided by Kornutopia.

City Brew Coffee Pack

6:00 A.M. - 7:00 A.M.

$30.00 Value

Costco GC

6:00 A.M. - 7:00 A.M.

$25.00 Value

MOD Pizza GC

6:00 A.M. - 7:00 A.M.

$25.00 Value

The Missoula Club GC

6:00 A.M. - 7:00 A.M.

$25.00

Corey Dostal Photography GC

7:00 A.M. - 8:00 A.M.

$200.00 Value

CPR Course for Two

7:00 A.M. - 8:00 A.M.

$110.00 Value

Course for two-year certification in CPR/AED/First Aid. Provided by Heart of the Valley CPR.

Pair of Lost Trail Powder Mountain Tickets

7:00 A.M. - 8:00 A.M.

$90.00 Value

Road Safety Gift Pack

7:00 A.M. - 8:00 A.M.

$60.00 Value

Click for image. Includes canvas tote, emergency blanket, First Aid utility bag, scrapers, metal thermos, and more. Provided by AAA.

Family Book Pack

7:00 A.M. - 8:00 A.M.

$54.00 Value

Click for image. Includes 'The Atlas Obscura Explorer's Guide for the World's Most Adventurous Kids', 'We Don't Eat Our Classmates' by Ryan T Higgins, 'It's All Relative' by AJ Jacobs (Signed Copy). Provided by Fact & Fiction.

Marchie's Nursery GC

7:00 A.M. - 8:00 A.M.

$50.00 Value

Jaker's Bar and Grill GC

7:00 A.M. - 8:00 A.M.

$50.00 Value

Provided by Kris Anderson.

Market on Front GC

7:00 A.M. - 8:00 A.M.

$50.00 Value

Provided by Will Johnson of Farm Bureau Insurance.

Bagels on Broadway GC

7:00 A.M. - 8:00 A.M.

$40.00 Value

Cancer Awareness 'Hope' Floor Mat

7:00 A.M. - 8:00 A.M.

$30.00 Value

Click for image. 2 x 2.75 ft. mat with rubber backing and polyester/nylon top. Features flower and 'HOPE' design with breast cancer ribbon. Provided by Loren's Carpet One Floor and Home.

Taqueria Montaña GC

7:00 A.M. - 8:00 A.M.

$24.00 Value

Cord of Wood

8:00 A.M. - 9:00 A.M.

$225.00 Value

Provided by Missoula Electric Cooperative.

Keep Warm Gift Pack

8:00 A.M. - 9:00 A.M.

$225.00 Value

Click for image. Includes a furnace tune-up, blanket, mugs, coffee funky christmas truck, decorations, and more. Provided by Air Quality Mechanical.

Five Metro Car Washes

8:00 A.M. - 9:00 A.M.

$90.00 Value

Provided by Andrew Martin.

Pair of Lost Trail Powder Mountain Tickets

8:00 A.M. - 9:00 A.M.

$90.00 Value

Adventure Cycling Pack

8:00 A.M. - 9:00 A.M.

$90.00 Value

Click for image. Includes two 6-month memberships, patch, key chains, sticker, cards, 2019 calendars, refrigerator magnets, and more.

Ole's Country Store GC

8:00 A.M. - 9:00 A.M.

$50.00 Value

Bagels on Broadway GC

8:00 A.M. - 9:00 A.M.

$40.00 Value

Yellowstone 'Of a Century Ago' Map Print

8:00 A.M. - 9:00 A.M.

$38.00 Value

Click for image. 28x36" full-color illustrated map print of Yellowstone National Park featuring the history and places of 100 years ago. Provided by E.R. Jenne.

MOD Pizza GC

8:00 A.M. - 9:00 A.M.

$25.00 Value

Missoula Textile Services GC

8:00 A.M. - 9:00 A.M.

$20.00 Value

Corey Dostal Photography GC

9:00 A.M. - 10:00 A.M.

$200.00 Value

Lolo Liquor and Wine GC

9:00 A.M. - 10:00 A.M.

$100.00 Value

Peak Health and Wellness Pack

9:00 A.M. - 10:00 A.M.

$98.00 Value

Click for image. Includes 1-month pass to Peak Health and Wellness, t-shirt, and mug.

5-Day Dog Daycare Package

9:00 A.M. - 10:00 A.M.

$90.00 Value

Provided by Happy Paws, Inc.

Pair of Lost Trail Powder Mountain Tickets

9:00 A.M. - 10:00 A.M.

$90.00 Value

Ceramic Stepping Stones

9:00 A.M. - 10:00 A.M.

$60.00 Value

Click for image. Three 12" painted and ceramic stones. Provided by Marchie's Nursery.

Jaker's Bar and Grill

9:00 A.M. - 10:00 A.M.

$50.00 Value

Provided by Kris Anderson.

Market on Front GC

9:00 A.M. - 10:00 A.M.

$50.00 Value

Provided by Will Johnson of Farm Bureau Insurance.

Bagels on Broadway GC

9:00 A.M. - 10:00 A.M.

$40.00 Value

Cancer Awareness 'Red' Floor Mat

9:00 A.M. - 10:00 A.M.

$30.00 Value

Click for image. 2 x 2.75' mat with rubber backing and polyester/nylon top. Features two-tone red design with snowflakes and breast cancer ribbon. Provided by Loren's Carpet One Floor and Home.

Taqueria Montaña GC

9:00 A.M. - 10:00 A.M.

$24.00 Value

Dental Exam

10:00 A.M. - 11:00 A.M.

$300.00 Value

Includes new patient exam, x-rays, and a cleaning. Provided by Neighborhood Dental.

Speed and Strength Motorcycle Helmet

10:00 A.M. - 11:00 A.M.

$130.00 Value

Five Metro Car Washes

10:00 A.M. - 11:00 A.M.

$90.00 Value

Provided by Andrew Martin.

Pair of Lost Trail Powder Mountain Tickets

10:00 A.M. - 11:00 A.M.

$90.00 Value

Flower & Garden Gift Pack

10:00 A.M. - 11:00 A.M.

$90.00 Value

Click for image. Includes bucket, tools, gloves, seeds, soil tester, and more. Provided by Marchie's Nursery.

American Book Pack

10:00 A.M. - 11:00 A.M.

$75.00 Value

Click for image. Includes 'McSweeny's Quarterly Concern 50', 'American Like Me' Edited by America Ferrera, 'Crash: The Great American Depression and the Rise and Fall of America.' Provided by Fact & Fiction.

Bitterroot Evergreens GC

10:00 A.M. - 11:00 A.M.

$50.00 Value

Montana Club GC

10:00 A.M. - 11:00 A.M.

$50.00 Value

Provided by Nick Alonzo and Bob Powell.

Bagels on Broadway GC

10:00 A.M. - 11:00 A.M.

$40.00 Value

Taqueria Montaña GC

10:00 A.M. - 11:00 A.M.

$24.00 Value

Keep Warm Gift Pack

11:00 A.M. - 12:00 P.M.

$225.00 Value

Click for image. Includes a furnace tune-up, blanket, mugs, coffee funky christmas truck, decorations, and more. Provided by Air Quality Mechanical.

Karl Tyler Chevrolet Gift Pack

11:00 A.M. - 12:00 P.M.

$200.00 Value

Click for image. Includes Griz Home shirt, KT hat, Contigo water bottle, Home decals, pens, lip balm, keychains, flashlights, air fresheners + 2 Lube, Oil & Filter Change certificates.

Dierks Bentley Show Package

11:00 A.M. - 12:00 P.M.

$190.00 Value

Performance in Spokane on January 31st. Package includes 2 tickets, 2 meet & greet passes, and two CDs of 'The Mountain' album.

Pair of Lost Trail Powder Mountain Tickets

11:00 A.M. - 12:00 P.M.

$90.00 Value

Missoula 'North of the Clark Fork' Art Print

11:00 A.M. - 12:00 P.M.

$35.00 Value

Click for image. 25x33" art print featuring Missoula, Montana. Provided by E.R. Jenne.

Oil Change, Break Inspection, and Tire Rotation

11:00 A.M. - 12:00 P.M.

$76.00 Value

Provided by Denny Menholt University Honda.

Jaker's Bar and Grill GC

11:00 A.M. - 12:00 P.M.

$50.00 Value

Provided by Kris Anderson.

Market on Front GC

11:00 A.M. - 12:00 P.M.

$50.00 Value

Provided by Will Johnson of Farm Bureau Insurance.

Cancer Awareness 'Christmas Tree' Floor Mat

11:00 A.M. - 12:00 P.M.

$30.00 Value

Click for image. 2 x 2.75' mat with rubber backing and polyester/nylon top. Features Christmas tree design and breast cancer ribbon. Provided by Loren's Carpet One Floor and Home.

Marchie's Nursery GC

11:00 A.M. - 12:00 P.M.

$25.00 Value

MOD Pizza GC

11:00 A.M. - 12:00 P.M.

$25.00 Value

Complete Auto Detail

12:00 P.M. - 1:00 P.M.

$300.00 Value

Provided by Denny Menholt University Honda.

Women's Motorcycle Jacket Pack

12:00 P.M. - 1:00 P.M.

$240.00 Value

Click for image. Size XL (runs small) jacket, plus t-shirt and blue cap. Provided by Bitter Roots Motorcycle.

Appetizer Gift Basket

12:00 P.M. - 1:00 P.M.

$200.00 Value

Click for image. Includes red and white wine, salame, olives, crackers, cheese, chocolates, a cutting board, and more. Provided by First Security Bank.

Pair of Lost Trail Powder Mountain Tickets

12:00 P.M. - 1:00 P.M.

$90.00 Value

16x20 Barn Wood Frame

12:00 P.M. - 1:00 P.M.

$60.00 Value

Bitterroot Evergreens GC

12:00 P.M. - 1:00 P.M.

$50.00 Value

Montana Club GC

12:00 P.M. - 1:00 P.M.

$50.00 Value

Provided by Nick Alonzo and Bob Powell.

Market on Front GC

12:00 P.M. - 1:00 P.M.

$50.00 Value

Provided by Will Johnson of Farm Bureau Insurance.

Conflux Brewing Company GC

12:00 P.M. - 1:00 P.M.

$25.00 Value

Pink Grizzly Wreath GC

12:00 P.M. - 1:00 P.M.

$25.00 Value

Missoula Textile Services GC

12:00 P.M. - 1:00 P.M.

$20.00 Value

Kubala 4 Hook Coat Rack

1:00 P.M. - 2:00 P.M.

$95.00 Value

Click for image. Reclaimed wood 26 x 4 x 1.5" coat rack made in Bozeman, Montana. Not available for immediate pickup. Provided by Six Fingers Studio.

Good Food Store GC

1:00 P.M. - 2:00 P.M.

$100.00 Value

Lolo Peak Brewing Company GC

1:00 P.M. - 2:00 P.M.

$50.00 Value

Five Metro Car Washes

1:00 P.M. - 2:00 P.M.

$90.00 Value

Provided by Andrew Martin.

Pair of Lost Trail Powder Mountain Tickets

1:00 P.M. - 2:00 P.M.

$90.00 Value

Novel Concepts Book Pack

1:00 P.M. - 2:00 P.M.

$80.00 Value

Click for image. Includes 'The Devoted' by Blair Hurley, 'The Other Einstein' by Marie Benedict, 'Malva' by Hagar Peeters, 'The Radium Girls' by Kate Moore. Provided by Fact & Fiction.

Decorated Wreath

1:00 P.M. - 2:00 P.M.

$60.00 Value

Road Safety Gift Pack

1:00 P.M. - 2:00 P.M.

$60.00 Value

Click for image. Includes canvas tote, emergency blanket, First Aid utility bag, scrapers, metal thermos, and more. Provided by AAA.

Pink Grizzly Wreath GC

1:00 P.M. - 2:00 P.M.

$25.00 Value

Mustard Seed Asian Cafe GC

1:00 P.M. - 2:00 P.M.

$20.00 Value

Provided by Jennifer Sharkey of Victoria's Secret.

Bed Bath & Beyond GC

1:00 P.M. - 2:00 P.M.

$20.00 Value

Men's Motorcycle Jacket Pack

2:00 P.M. - 3:00 P.M.

$370.00 Value

Click for image. Size XL jacket, plus t-shirt and red cap. Provided by Bitter Roots Motorcycle.

Cord of Wood

2:00 P.M. - 3:00 P.M.

$225.00 Value

Provided by Missoula FFA Chapter Big Sky High School.

Full Set of Volume Lash Extensions at Swoon

2:00 P.M. - 3:00 P.M.

$125.00 Value

Provided by Katie Thrasher.

Willie's Distillery Flavored Spirits Pack

2:00 P.M. - 3:00 P.M.

$110.00 Value

Click for image. Includes Coffee Cream Liqueur, Montana Honey Moonshine, and Huckleberry Sweet Cream Liqueur.

The Depot GC

2:00 P.M. - 3:00 P.M.

$100.00 Value

Lolo Liquor and Wine GC

2:00 P.M. - 3:00 P.M.

$100.00 Value

Pair of Lost Trail Powder Mountain Tickets

2:00 P.M. - 3:00 P.M.

$90.00 Value

Pasta Gift Basket

2:00 P.M. - 3:00 P.M.

$70.00 Value

Click for image. Includes pasta, vodka sauce, red wine, maple syrup, and more. Provided by Case Management Caregiving.

Jaker's Bar and Grill GC

2:00 P.M. - 3:00 P.M.

$50.00 Value

Provided by Kris Anderson.

Marchie's Nursery GC

2:00 P.M. - 3:00 P.M.

$25.00 Value

Pink Grizzly Wreath GC

2:00 P.M. - 3:00 P.M.

$25.00 Value

Cosmetics Pack

3:00 P.M. - 4:00 P.M.

$300.00 Value

Click for image. Includes products by Jimmy Choo, Estee Lauder, Dolce and Gabanna and more. Provided by Dillard's.

PC Makita Lithium Ion Drill Set

3:00 P.M. - 4:00 P.M.

$230.00 Value

Click for image. Includes power drill and impact driver. Provided by Montana Tool.

Willie's Distillery Straight Spirits Pack

3:00 P.M. - 4:00 P.M.

$100.00 Value

Click for image. Includes Montana Moonshine, Canadian Whisky, and Snowcrest Vodka.

Good Food Store GC

3:00 P.M. - 4:00 P.M.

$100.00 Value

Petco GC

3:00 P.M. - 4:00 P.M.

$100.00 Value

90-Minute Massage

3:00 P.M. - 4:00 P.M.

$90.00 Value

Provided by Tiara of Marquardt Chropractic Clinic.

Pair of Lost Trail Powder Mountain Tickets

3:00 P.M. - 4:00 P.M.

$90.00 Value

Sterling Silver Montana Griz Necklace

3:00 P.M. - 4:00 P.M.

$55.00 Value

Click for image. Handmade 16" fine silver necklace. Provided by Delicate Hardwear.

The Missoula Club GC

3:00 P.M. - 4:00 P.M.

$25.00 Value

MOD Pizza GC

3:00 P.M. - 4:00 P.M.

$25.00 Value

Pink Grizzly Wreath GC

3:00 P.M. - 4:00 P.M.

$25.00 Value

Dental Exam

4:00 P.M. - 5:00 P.M.

$300.00 Value

Includes new patient exam, x-rays, and a cleaning. Provided by Neighborhood Dental.

Carved Bear

4:00 P.M. - 5:00 P.M.

$150.00 Value

Spirits Gift Basket

4:00 P.M. - 5:00 P.M.

$140.00 Value

Click for image. Includes Crown Royal, Kahlua Cinnamon, Tito's Handmade Vodka, Svedka Orange Cream Pop, and more. Provided by Grizzly Liquor.

Pair of Silk Ties

4:00 P.M. - 5:00 P.M.

$120.00 Value

Lolo Liquor and Wine GC

4:00 P.M. - 5:00 P.M.

$100.00 Value

Marchie's Nursery GC

4:00 P.M. - 5:00 P.M.

$100.00 Value

The Depot GC

4:00 P.M. - 5:00 P.M.

$100.00 Value

Accessories Pack

4:00 P.M. - 5:00 P.M.

$100.00 Value

Click for image. Two pairs of earrings and two 4-pocket wallets. Handcrafted in Missoula from recycled bicycle inner tubes. Not available for immediate pickup. Provided by Up Line at Upcycled.

U of M Grizzly Floor Mat

4:00 P.M. - 5:00 P.M.

$95.00 Value

Click for image. 3 x 4' mat with rubber backing and polyester/nylon top. Features U of M Grizzly design. Provided by Missoula Textile Services.

Pair of Lost Trail Powder Mountain Tickets

4:00 P.M. - 5:00 P.M.

$90.00 Value

Cenex GC

4:00 P.M. - 5:00 P.M.

$50.00 Value

Couples' Cosmetics Pack

5:00 P.M. - 6:00 P.M.

$300.00 Value

Click for image. Includes products by Chanelle, Missoni, Clinique for Men, Kiehl's, StriVectin and more. Provided by Dillard's.

One Complete Vehicle Detail

5:00 P.M. - 6:00 P.M.

$225.00 Value

Provided by Karl Tyler Chevrolet.

Corey Dostal Photography GC

5:00 P.M. - 6:00 P.M.

$200.00 Value

Dierks Bentley Show Package

5:00 P.M. - 6:00 P.M.

$190.00 Value

Performance in Spokane on January 31st. Package includes 2 tickets, 2 meet & greet passes, and two CDs of 'The Mountain' album.

Masterbuilt Sportsman Elite Gas Smoker

5:00 P.M. - 6:00 P.M.

$150.00 Value

Missoula Downtown Association GC

5:00 P.M. - 6:00 P.M.

$100.00 Value

Provided by First Interstate Bank.

Pair of Lost Trail Powder Mountain Tickets

5:00 P.M. - 6:00 P.M.

$90.00 Value

Cocktail Gift Basket

5:00 P.M. - 6:00 P.M.

$50.00 Value

Click for image. Includes Woody St. Premium Vodka, Bold & Spicy Bloody Mary Mix, Pickle Drink Stirrers, and more. Provided by Montana Distillery.

Lolo Peak Brewing Company GC

5:00 P.M. - 6:00 P.M.

$50.00 Value

Mustard Seed Asian Cafe GC

5:00 P.M. - 6:00 P.M.

$20.00 Value

Provided by Jennifer Sharkey of Victoria's Secret.

4 Rounds of Golf at the Ranch Club

6:00 P.M. - 7:00 P.M.

$260.00 Value

Certificate good for four players, eighteen holes, and a golf cart.

Signed Luke Bryan Cowboy Hat

6:00 P.M. - 7:00 P.M.

Priceless

Pair of Lost Trail Powder Mountain Tickets

6:00 P.M. - 7:00 P.M.

$90.00 Value