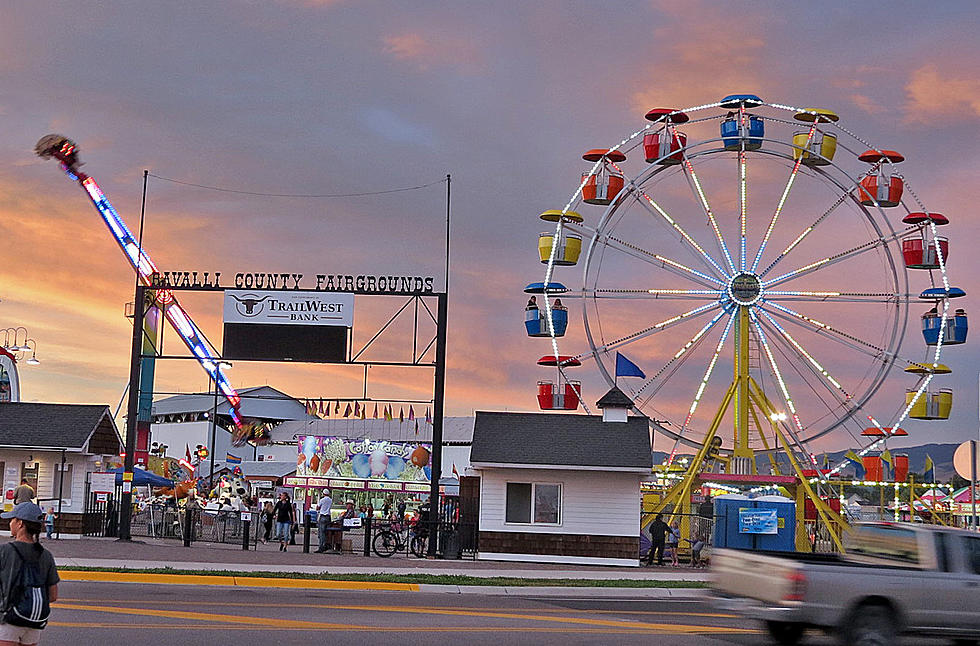 You Can Be Part Of The 2021 Ravalli County Fair
Ravalli County Fair. (KLYQ File Photo, Townsquare Media)
Got a cool photo? Have a great work of art? Did your kids construct a wonderful Lego scene? Are your flowers showing off this year? The Ravalli County Fair wants you! There are 59 categories - we call them Departments. They're all listed, along with rules and such, in the 88-page fair book, available at many locations, including the Ravalli County Fair Office. Or check online at their website.
The fair in Hamilton is September 1st through September 4th and it is a true exhibitors' fair. The entries fill the display barns with everything from jams and jellies to creative creatures made out of vegetables, from clothes to photos. Even poetry. And much more. This year's Fair Book is out there, waiting for you to browse through the Departments - Open class Entries and 4H Entries. You might win a ribbon and a prize. Your group can even perform on our KLYQ performance stage. Entries are free! Entry deadline for 4H is August 6 and entry deadline for Open Class is August 13. That's when your paperwork is due. The entries themselves are brought to the fairgrounds the weekend before the fair.
And if you would like to know how to do something - like porcelain art or beekeeping, there are regular demonstrations throughout the week. The exhibits are just part of the extravaganza, of course. We'll be telling you more about the entertainment, the carnival rides, the games of chance and, oh yes, the rodeo! We'll be there and you need to be there, too.
Don't forget the parade. Think about entering that, too. The Bitterroot Valley Chamber of Commerce handles that crowd-pleaser at the beginning of the fair. 406-363-2400.
LOOK: Here is the richest town in each state
Just saying the names of these towns immediately conjures up images of grand mansions, luxury cars, and ritzy restaurants. Read on to see which town in your home state took the title of the richest location and which place had the highest median income in the country. Who knows—your hometown might even be on this list.