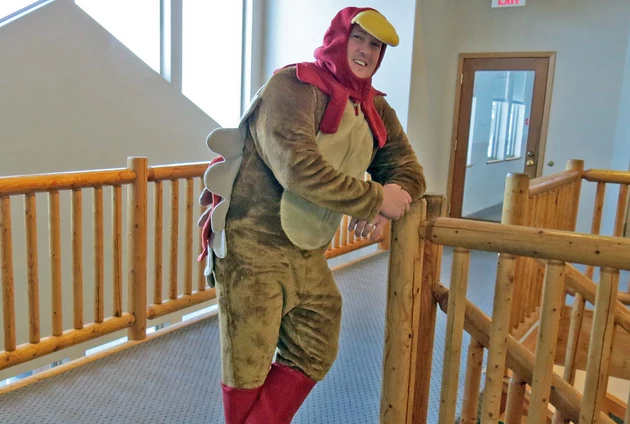 'Turkey Trot' to Raise Money for Bitterroot Food Banks
Dominic Farrenkopf in a turkey suit. (Steve Fullerton, Townsquare Media)
A man-sized turkey will be raising money in Stevensville, Darby and Hamilton the next two Fridays to help out the Bitterroot Valley's food banks. Sapphire Lutheran Homes is sending Dominic Farrenkopf to Stevensville Friday morning, November 9, and to Darby, that afternoon to stroll around the towns with a cornucopia horn. The public can drop money into the horn and all the donations will go to Pantry Partners when the "Turkey Trot" is in Stevensville and to the Darby Bread Box when the turkey visits that town.
Then, next Friday, November 16, the Turkey will be in Hamilton all day, raising money for Hamilton's Haven House.
Farrenkopf, who is also Hamilton's Mayor, is happy to don costumes and raise money for community organizations throughout the year. The need for more supplies at the local food banks is high this time of year. So, look for the guy in the turkey suit and donate generously.