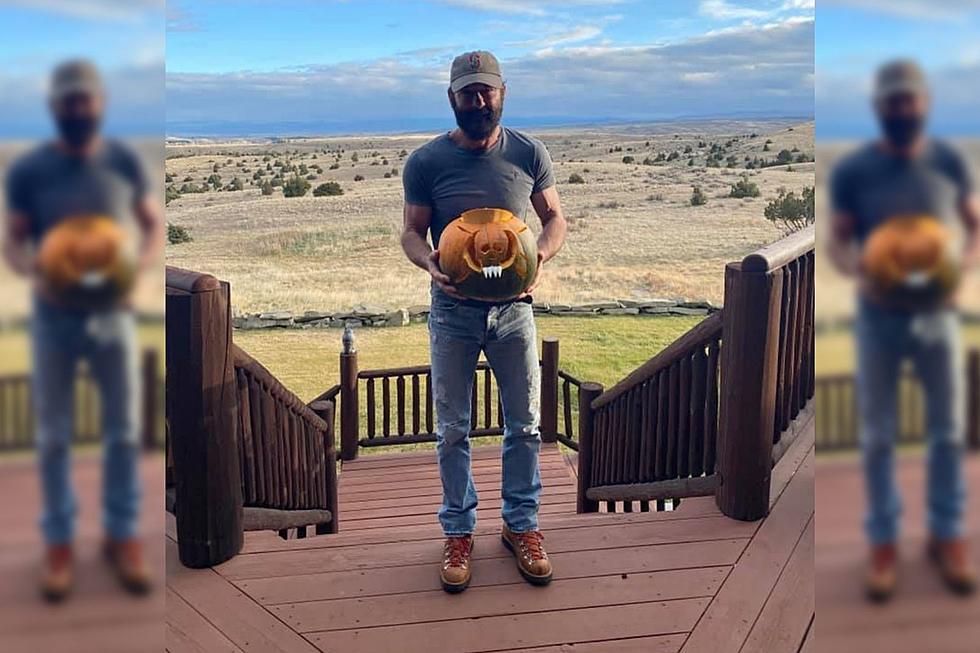 Tim McGraw Sends Halloween Greetings From Montana
Photo: Tim McGraw via Facebook
I'm going to guess that Tim McGraw wasn't passing out candy for Halloween this year. I can't claim to know anything about Tim's love (or lack of) for the holiday, but if the picture he posted is of the house he's staying in while he's in Montana, it doesn't look like he would have to worry about anybody knocking on the door in search of treats!
It was pretty big news when it was announced that Tim McGraw and Faith Hill would be playing the main roles in the Yellowstone prequel titled 1883. The show has spent most of its time being filmed in Texas but recently we saw the call was out for extras to do some filming in Montana. It would appear that Tim McGraw is also part of the show's shooting schedule here in the state as he posted a picture with a pumpkin that he captioned "Happy Halloween from Montana!" Now, I suppose he could just be on vacation and taking in all that Montana has to offer over the Halloween holiday. But I'm going to assume that the timing of the Halloween post lines up with the shooting that the show has scheduled this week. Regardless, it looks like Tim's Montana time was spent doing some pumpkin carving.
Tim also commented on his own post and said "just so you know the beard is for 1883." Yep, the beard is definitely a new look for Tim as one person even posted in the comments that they thought he was wearing a mask. We'll have to see how big of a success 1883 becomes. If it proves to have the type of following that Yellowstone does we might see a bunch of people dressed as Tim's character for Halloween next year. But this year it seemed like Rip (and Beth) from Yellowstone were the go-to costumes of choice.
Hopefully, Tim McGraw is enjoying his stay in Montana and can find a little free time to offset the work. As a fellow actor in the Yellowstone franchise, I know how gruelling the days on set can be. **(I was a Yellowstone extra for a day during filming last year. It was the easiest $250 I ever made. Season 4 premiers this weekend and I'll be watching to see if my blurry face makes it into the background of the scene.)**
10 'Yellowstone' Facts You Probably Didn't Know
How big of a fan of
Yellowstone
are you? These 10 facts about the Paramount Network show are sure to stump even the most dedicated viewers. They're almost all about the cast members and their real-life passions and roles. John's kids? Beth's accent? Rainwater's guitar playing? Tate's spoilers? It's all part of this list of 10 Facts You Probably Didn't Know About Yellowstone.
You Can Rent a Cabin on the Ranch From 'Yellowstone' - See Pictures
The stunning Montana ranch that serves as the setting for the hit TV show Yellowstone offers cabins for rent, and the price includes tours of the set and ranch. Scroll below to see photos of the extraordinary property.