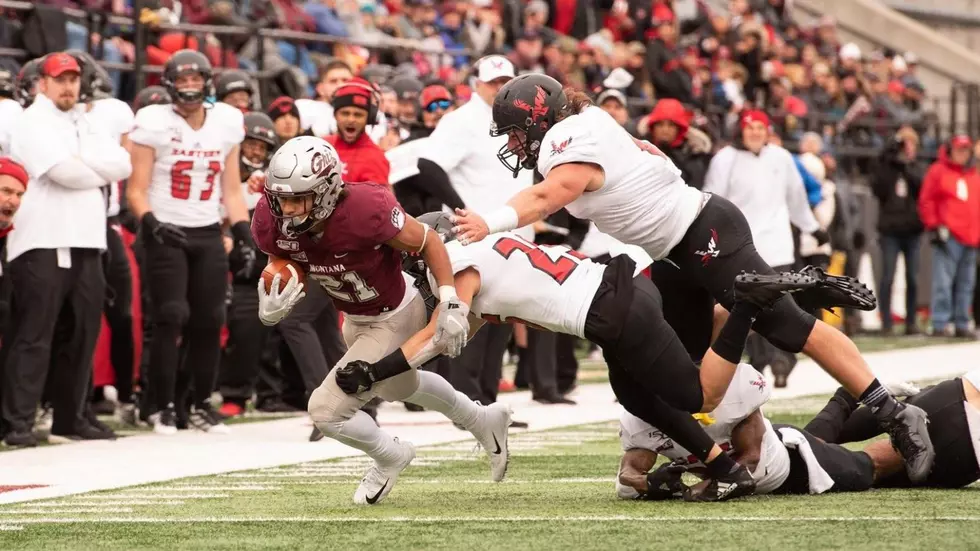 Still Openings For Montana Grizzly Youth Football Camp Next Week
Image courtesy of U of Montana Athletics
Parents, do you have any fifth-through-eighth graders for which you are tired of being a tackling dummy?
Next week's University of Montana Football Camp still has openings for kids entering fifth through eighth grades this fall. And you can register right up until this Sunday, June 21, 4:00 p.m. deadline.
The camp will take place Monday - Wednesday, June 22 - 24. Check-in time is 7:30 - 8:00 a.m. daily. Pick up and drop off kids at the south entrance of Washington Grizzly Stadium near the big Griz Vision board. Sessions will run from 8:00 a.m. until noon each day.
Offensive & defensive instruction by UM coaches and players
Punt, Pass & Kick competitions
Campers should bring cleats or sneakers and a water bottle.  Cost per player is $150. Per NCAA rules, all sport camps and clinics conducted at University of Montana are open to any and all entrants, and enrollment is only limited based on age, grade level, gender and/or number of participants as specified by each camp.
If you would like more information, please call 406-243-4336.  You can also register for the camp here.
The forecast (always reliable, right?) is calling for partly to mostly sunny skies with highs in the low 80s Monday - Wednesday. Should be good days for those young Griz hopefuls to learn from some of their local heroes.
TACKLE THESE: Check Out the Best Uniforms In Each NFL Team's History