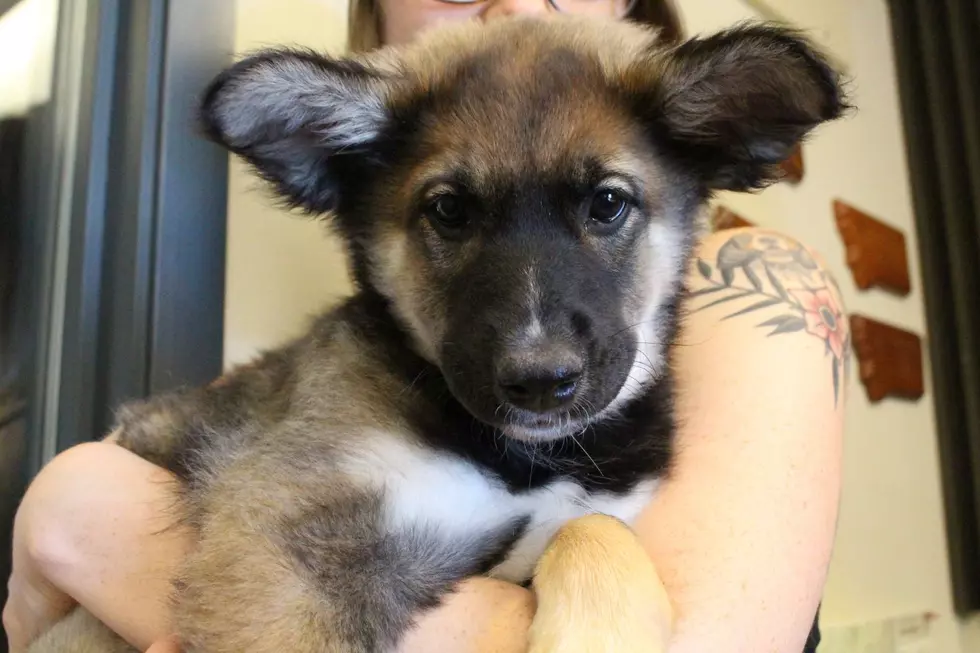 Meet Precious Puppy Raquel at Humane Society of Western Montana
Image courtesy of Humane Society of Western Montana
At least one Dog Day of August in Missoula couldn't have been any more enjoyable.
It was another Take Me Home Tuesday radio broadcast, and a special treat, as it's not often members of the Humane Society of Western Montana can introduce us all to a puppy. In this case, Raquel, one of several siblings waiting for their forever homes. Soft, sweet, affectionate, gentle...it's hard not to adjective the heck out of you!
Jessie from the Humane Society told us that Raquel and three siblings were transferred to Missoula from a partner shelter in eastern Montana. At 8-10 weeks old, it's a bit undetermined what breeds she might be, but indications are that Raquel is going to grow up to be a pretty big girl.
With your adoption, the Humane Society offers Puppy Kindergarten classes on Wednesdays, helping you train your pup to socialize with other humans and animals, and other skills that will aid in his or her development.
Before adoption availability, Raquel is going to be part of a big event this Saturday, August 20, in Caras Park, downtown Missoula. Everyone is invited to the annual Pet Fest, featuring many animals hoping for forever homes, including puppies like Raquel, from a number of area shelters. There will also be food trucks, pet supply vendors, and lots more. Hours are 10:00 a.m. - 3:00 p.m.
You can bring your dog to Pet Fest, provided you have proof of vaccinations, tags, a fairly short lease, etc. You can get more policy details here.
Take Me Home Tuesday is sponsored locally by TrailWest Bank, Paul's Pancake Parlor and Flanagan Motors Mazda. The Humane Society is open Wednesdays - Sundays, 1:00 p.m. - 6:00 p.m., at 5930 Highway 93 South, Missoula.
LOOK: Here are the pets banned in each state
Because the regulation of exotic animals is left to states, some organizations, including The Humane Society of the United States, advocate for federal, standardized legislation that would ban owning large cats, bears, primates, and large poisonous snakes as pets.
Read on to see which pets are banned in your home state, as well as across the nation.