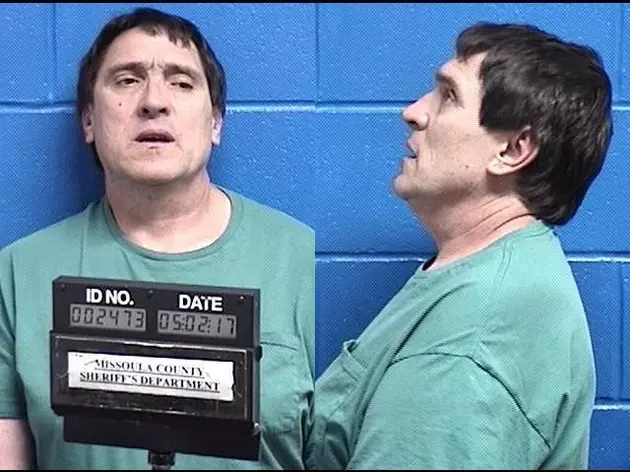 Missoula Police Say Man Was Attacked Twice – Once By Bowling Pin, Later by Hungry Girlfriend
Photo courtesy of Missoula Jail
A Missoula man is in custody after police say he attempted to hit another man with an unusual weapon… a bowling pin. Missoula Police public information officer Travis Welsh says a fight broke out at a residence in the 500 block of East Broadway around 4:30 p.m. Tuesday.
"They identified and eventually arrested 51-year-old Michael Schumacher for assault with a weapon after he had approached a 22-year-old male with a bowling pin raised high as if to strike him," Welsh said. "There was actually an injury caused by the bowling pin, the victim put his hand up to block the blow."
The fight apparently started over harsh words said about the victim's girlfriend.
"It appears that it all started over the eventual victim overhearing a neighbor saying some disparaging things about his girlfriend," Welsh said. "A couple other males got involved, one of those being Mr. Schumacher, who had decided to enter the fray.
Less than three hours later, Welsh says Police were back at the same residence.
"Later that evening, just after 7:00 p.m. officers were called back to that same location in the 500 block of East Broadway for another reported disturbance, this time, between a male and a female, this time arresting 44-year-old female identified as 44-year-old Michelle Andrews for a reported assault," Welsh said.
Andrews is apparently the girlfriend tangentially related to the earlier fight, she reportedly injured the same boyfriend who tried to defend her honor earlier… all over some food.
"According to the report, she had approached her sleeping boyfriend, grabbed him by the face and neck, again causing minor injury, and woke him up in an attempt to get him to get her some food," Welsh said. "As it happens, the victim in both cases is the same 22-year-old male."
Andrews already has two Partner or Family Member Assault charges on her record so this most recent charge would be considered a felony, but the county attorney's office chose not to prosecute. The bowling pin attack by Schumacher is being charged as a felony.