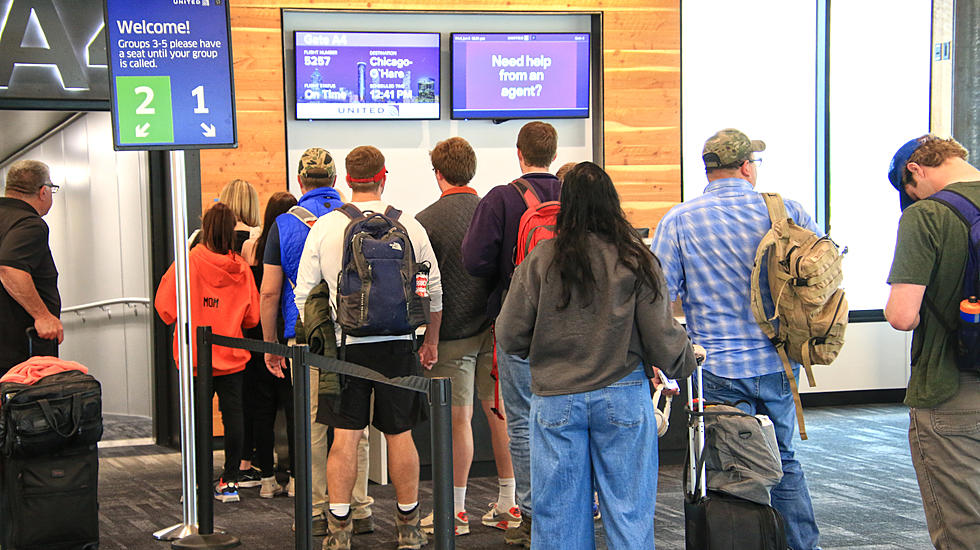 Missoula Montana Airport Set a New Passenger Record
Dennis Bragg photo
If you thought all of Montana's travelers were on the highways this summer, you're missing a significant part of the 2023 transportation picture. That's where air travelers at the Missoula Montana Airport are setting a new record, hitting a mark that has stood since before the pandemic.
And the new record announced Wednesday also indicates how busy Missoula's air travel has become, hitting higher than the national average.
MSO leaders say 47,254 passengers went through the new Missoula terminal in June, marking a new record for departures and eclipsing the previous record, set in June 2019.
"We are thrilled to witness this record-breaking achievement at Missoula Montana Airport," said Brian Ellestad, Airport Director. "Our team's dedication and hard work have paid off. We thank our airline and community partners, as well as the flying public for their support and assistance."
The growth is solid
Compared to last year, June enplanements, or people boarding aircraft, were up 17%. And even measured against the 2019 record, traffic was up 4%.
That exceeds the strong growth in air traffic nationwide, with June air travel up 100.8% over the pre-pandemic travel season, and 111.1% over last year. TSA reports passenger counts hit 2.8 million people passing through checkpoints across the country.
Taking advantage of the new terminal
The growth spurt has been timed perfectly to match the airport's massive expansion, with the new main terminal which came online in 2022, and the additional passenger terminal currently under construction. And Ellestad says those improvements are allowing Missoula to meet the expectations of today's air travelers coming in, and from Montana.
"As an Airport, we are committed to maintaining the highest standards of service and safety for all travelers, and as the region's gateway to the world, we look forward to welcoming more passengers and continuing to contribute to the economic growth and vitality of the region."
RELATED: Missoula airport one of the few with an app to help sensitive travelers
14 Destinations to Visit With Direct Flights From Missoula
Here's a list of places to visit (and things to do while you're there) with nonstop flights out of the Missoula Montana Airport.