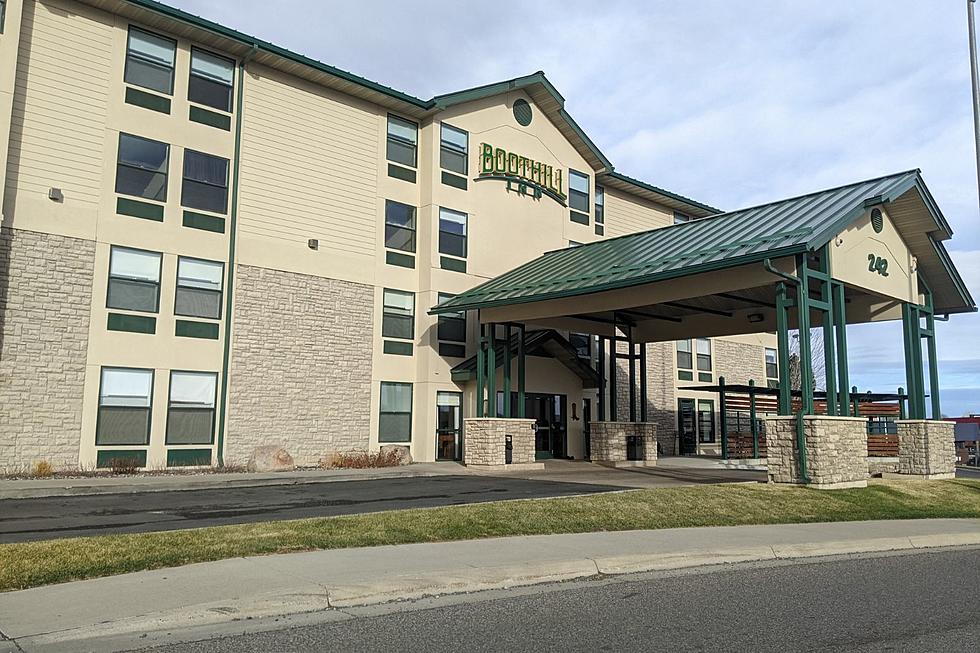 A Real Dinosaur Bone Sits in the Lobby of this Billings Hotel
Photo by Michael Foth, Townsquare Media
I can't remember where I first heard about a dino bone at the Boothill Inn and Suites, but it had been in the back of my mind ever since. After driving past the four-story hotel at the top of Main and Airport Road for literally years, today I decided to pop in a see for myself.
I wandered into the lobby and looked around for a few minutes while the staff at the front desk finished up their business. As I glanced around the lobby, then the breakfast area, and even peeked down a hallway, I was starting to think that maybe I was in the wrong place. I didn't see any type of display case with dinosaur fossils. Perhaps I was confused about which hotel had a fossil in their lobby? Nope.
It was sitting right on the check-in counter.
As the front desk clerk finished up with her phone call, I came forward and said something like, "I hear you guys have a dinosaur bone here?", still not sure if I was at the right place. "We sure do", was the answer, as she pointed to her right. And sure enough, there it was, just sitting right there on the check-in counter.
Where did the prehistoric bone come from?
Shelli Mann, the amiable General Manager of the hotel was more than happy to answer my questions and with a big smile on her face, she proudly told me the story behind the approximately 2 1/2 foot-long fossil that seemed so casually displayed. This hip bone of the edmontosaurus ilium was found on a ranch near Jordan, MT, in the Hell Creek Formation.
Eastern Montana is literally covered with fossils.
This particular vegetarian dino is believed to have lived around 65 million years ago, and paleontologists believe it preferred coastal and coastal plains areas. It's crazy to think that the area around Fort Peck Reservoir was once oceanfront property. Shelli told me that she frequently finds smaller fossils in the area. Guests of the hotel are usually given their own small fossil to keep as a souvenir.
The Boothill Inn has another impressive fossil, currently not on display.
As we chatted, Shelli revealed an even more impressive specimen that is currently in storage. The fossil pictured above is a portion of vertebrae from the same dinosaur. Apparently, it keeps getting broken (pesky kids). If you are into dinosaurs, stop by the Boothill Inn next time you're driving by and check it out.
Note, if you think you'd like to go look for fossils in Montana, please consult state and federal laws and respect private property. Trespassing is illegal and fossil poaching is a serious crime.
LOOK: Things from the year you were born that don't exist anymore
The iconic (and at times silly) toys, technologies, and electronics have been usurped since their grand entrance, either by advances in technology or breakthroughs in common sense.
See how many things on this list
trigger childhood memories—and which ones were here and gone so fast you missed them entirely.