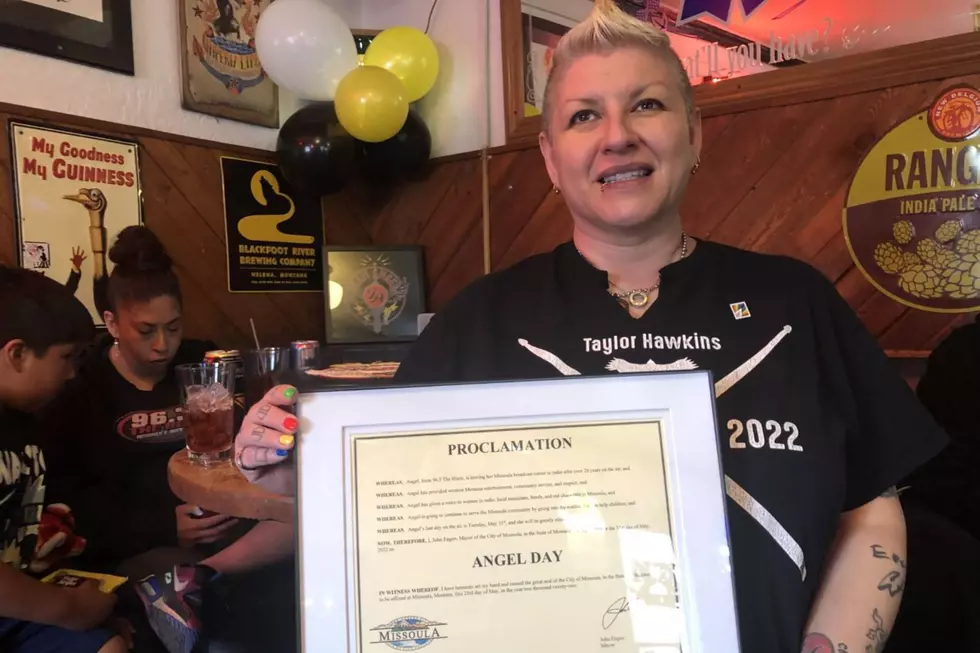 'Angel Has Left the Building' and Now Serves Community Hospital
Credit: Peter Christian
The truly iconic Angel Hughes, known simply as 'Angel' for the past 25 years in Missoula radio, has officially retired to serve the city in a different capacity at Missoula's Community Medical Center.
KGVO was invited to Angel's farewell party at one of her favorite establishments, the Rhino in downtown Missoula to broadcast her final show on location.
Surrounded by friends, family and well-wishers, Angel told KGVO that Mayor John Engen himself made the day very special.
"I'm honored and shocked," began Angel. "Our friends at Z-100 actually came over and presented me with the proclamation and its official. Its Angel day on the 31st of May, and they said some very kind things about me. So I've been in radio for 25 years, and it's been an honor to serve the Missoula community. So this is a good way to go out."
After being named Missoula's most popular radio personality numerous times over her career, Angel revealed her newest passion, social work.
"I am working in pediatrics over at Community (Medical Center), and I'll be their social worker someday hopefully," she said. "I'm working on my degree still so I'm with the kids and the babies. I do go down to the NICU (Neo-Natal Intensive Care Unit) too so it's a different animal altogether as far as work goes but I love it, I love it!"
Angel discovered her latest passion while on the job for Townsquare Media.
"Being in radio for 25 years, every time I was doing any kind of community service or public service I discovered that was my passion, and so I decided while watching my coworkers serve the community I just want to take that a step further," she said.
Friends, listeners and coworkers filled a guest book with comments of their years together, and their love for the one and only…Angel.
35 Concerts We Can't Wait to See in Missoula This Summer
Here's a full rundown of all the major concerts Missoula is looking forward to seeing this summer.
Get to Know Missoula A to Z
All about Missoula, Montana.
I Bought an Old House in Missoula: It's My First Time Renovating
As with any renovation project, we ran into a few mishaps when we began renovating the 1952 ranch-style home we bought in Missoula, but some of the changes we made were easy and immediately rewarding.