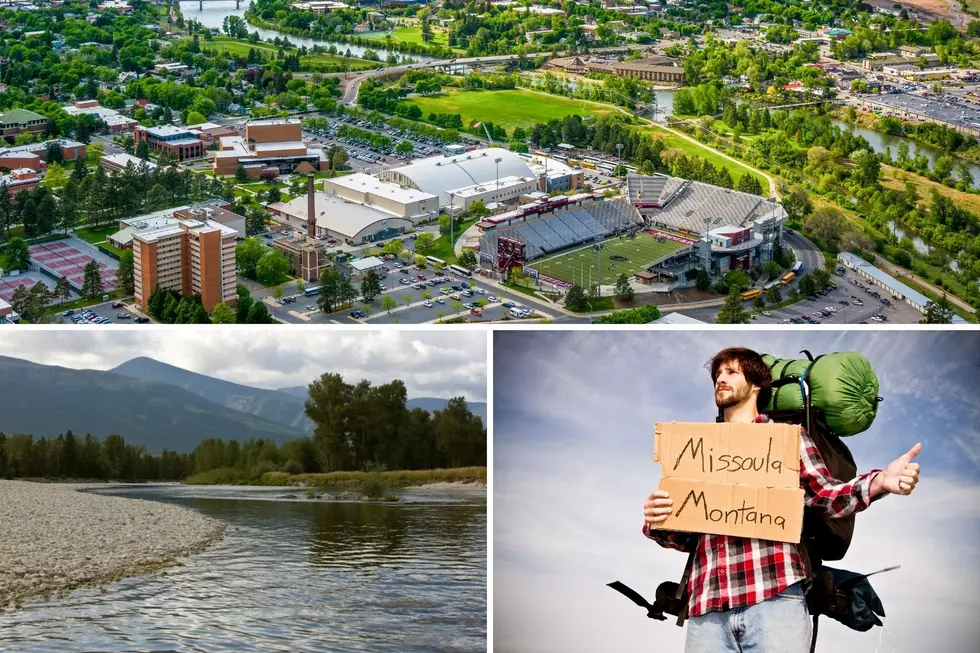 YouTuber Posts New Video of 10 Reasons People Love Missoula
Photo: Canva
It's pretty tough to live in Missoula and not have a long list of things you love about it, especially when the weather gets nice and there are so many outdoor activities available to us. As I was poking around online today, I came across a YouTube video that was actually just published earlier in the day titled 10 REASONS WHY PEOPLE LOVE MISSOULA MONTANA USA. Something like that always gets my attention so I obviously had to dive in and see what the video was all about. Would I learn about any hidden gems when it comes to unknown Missoula activities or would every item just be the same old generic examples?
The video is from the account of Leonard Shea. His page says he's a "Canadian singer/songwriter that has now morphed into a travel and foodie YouTuber." His profile says he's traveled to more than 50 countries but I'm not sure if he actually visited Missoula in his travels or just did a little research from the computer. Let's take a peek at the ten reasons that make up his list for why people love Missoula. I'll make a quick prediction that the M trail, fishing, and a trip to Big Dipper make the list.
Alright, let's break it down!
(Here's each place that made the list along with my own thoughts about each.)
CLARK FORK RIVERFRONT TRAIL
Nothing beats getting a little exercise while taking in the views as you make your way around the trail. Remember to keep the flow going! Be aware of your surroundings and move over for anyone coming through on a bike.
HIKE THE "M" TRAIL
Yep, we knew this would be on the list. Whenever I get talked into doing the trail I question my decision every step of the way until I reach the top. But it's worth it when you look down over the University of Montana and get a birds-eye view of the rest of Missoula.
SMOKEJUMPER VISITOR CENTER
Take a 45-minute tour of the facility and you'll learn a few things about the profession when you do. See displays and learn about the equipment and history of smokejumping during one of the tours that are offered multiple times throughout the day.
RATTLESNAKE NATIONAL RECREATION AREA
If you love getting outdoors, you just have to travel a few miles outside of Missoula and you can take the adventure to the trails that are part of the Lolo National Forest. Hike and bike for the day or pack your things and make it an overnight camping stay.
FLY FISHING
Everybody has to try fly fishing! Actually, I believe it's a state law that you're not allowed to talk about A River Runs Through It if you don't try fly fishing in Missoula.
CARAS PARK
Everything happens down at the park area! Beer fests, Missoula Marathon activities, the farmer's market, A Carousel for Missoula, Out to Lunch, Downtown ToNight, and so much more. Caras Park is the hub through which downtown activities flow.
THE WILMA
It's a Missoula landmark! Catch one of the many concerts at The Wilma throughout the year. You can also rent it out for a wedding, company party, or other private event.
ROCKY MOUNTAIN ELK FOUNDATION
The RMEF started in 1984 and its mission is to ensure the future of elk and other wildlife. Check out the visitor center and learn more about conservation education programs.
DOWNTOWN
So much comes included when you throw "downtown" on the list! Between downtown and the Hip Strip there's so much to do including The Roxy, restaurants, bars, and shops. Big Dipper didn't officially make the list like I predicted, but it falls under the downtown/Hip Strip category so we'll go ahead and give me the point.
SNOWBOWL
Close to town and pretty affordable compared to other places. Do a little skiing or snowboarding in the winter and you can bike the trails or go zip lining in the summer. And they're putting in a triple chairlift that should be ready by the winter.
Overall, a pretty decent list.
Sometimes it just takes a list like this to serve as a reminder of how awesome Missoula is. What else would you add to the list?
Tourists Can't Pronounce These Five Montana Towns
Montana is a place that is filled with towns and cities with rich histories. The issue that some folks have is that these towns might seem tough to pronounce. Easy for locals, not for tourists.
10 Businesses That Should Open a Location in Missoula
We asked, and you answered, and then we brainstormed a little bit too. Here are 10 businesses that we think should open a location in Missoula, Montana.
Six Museums To Check Out in Montana
Love history, art, or dinosaurs? Montana has museums statewide that are perfect for any interest. The next time you are traveling through the Big Sky State, you should check out one of these amazing museums.