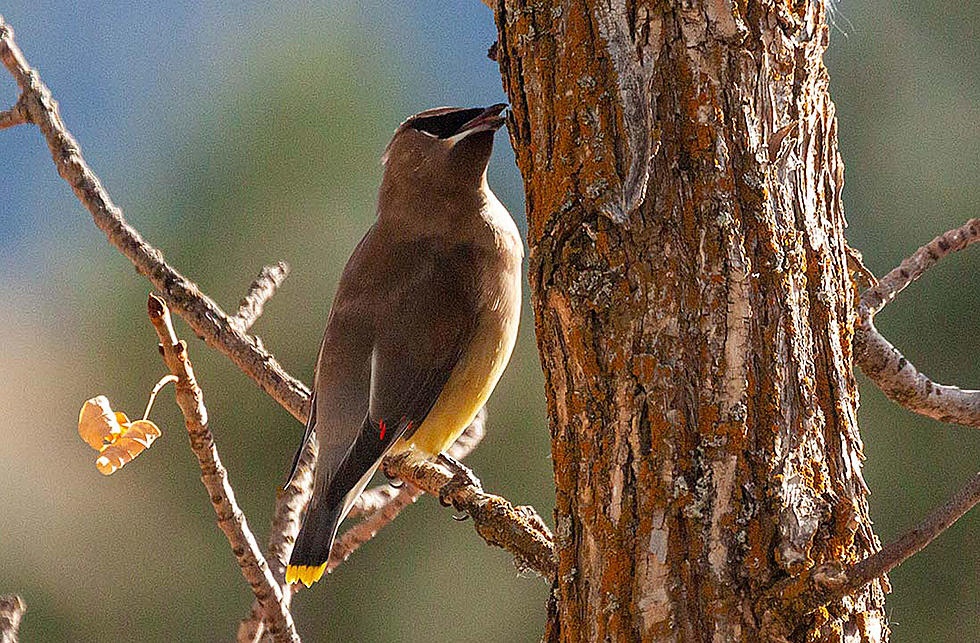 Stunning Fall Colors – Bitterroot Outdoor Journal
A Cedar Waxwing finding a bug in the bark. (Bob Danley Photo)
As you travel around our beautiful autumn landscape here in western Montana, stop and take a short hike. You'll enjoy it. Bird migration continues throughout the area. Bob Danley of the Bitterroot Outdoor Journal has been hearing and seeing the flocks of Cedar Waxwings in the trees around his home. The birds are mixing their diet with Mountain Ash berries and bugs like the Woolly Aphids on other trees. The Bohemian Waxwings will arrive in November.
Believe it or not, butterflies can still be found in the Bitterroot Valley. There are about eight species still flying around. Bob has a photo of the Green Comma, which is found in conifer woods. It has a two-inch wingspan and has a dark orange color, with a line of small yellow dots on the trailing edge of the wings. Most butterflies are now hibernating.
If you head up to Horse Creek Hot Springs, way south of Painted Rocks Reservoir, you might see the Flame Skimmer Dragonfly. It's orange-colored, just for the Halloween season, it seems. They won't be around long...it's getting cold.
Fall colors are found on trees and rocks, if you're looking for lichen. There are over a thousand species of lichen in Montana and you can easily see some on the rocks of Kootenai Creek (and you don't even have to rock climb to find them). They're very small, but colorful. Speaking of Halloween color, the Chicken-of-the-woods mushroom can be found on standing dead conifer trees and the older fungi are brittle and touch. As this fungi gets older, it fades in color to a general white appearance. And, you can find it in the same place year after year.
Bob's reports are heard every Wednesday morning about 7:45 a.m. on 1240 AM KLYQ Radio and online at www.klyq.com. You can also check out one of his informative websites.
LOOK: 30 fascinating facts about sleep in the animal kingdom
13 Spooky-But-Not Scary Halloween Movies
These films are perfect for people who love Halloween but don't love super scary movies.