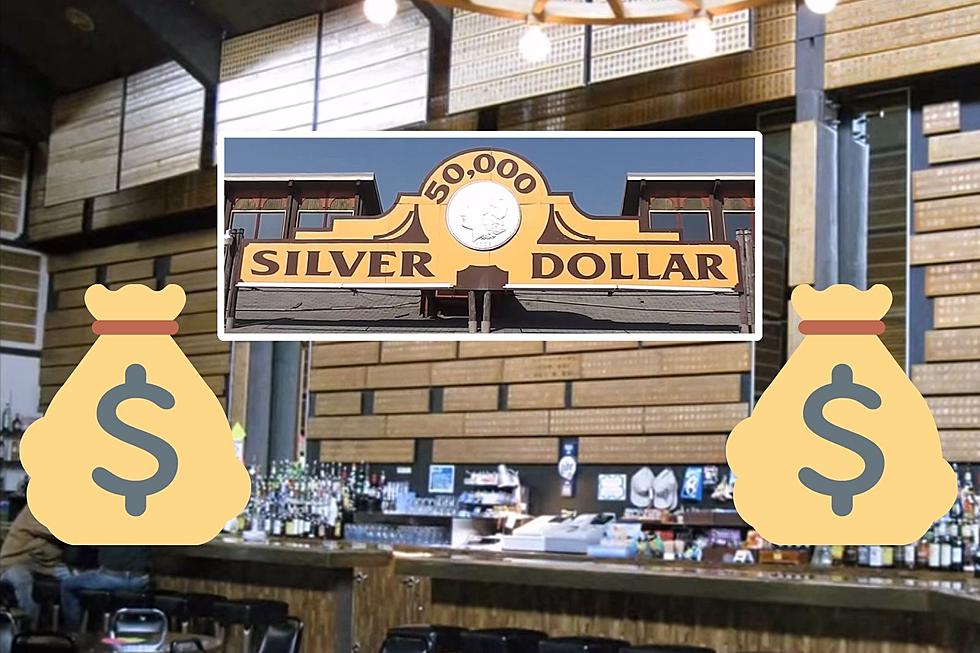 Montana's $50,000 Silver Dollar Bar Actually Has This Many Coins
Photo: The Travel Channel via YouTube / Canva
If you've ever found yourself needing a break while traveling on I90 between Missoula and Coeur d'Alene, you may have stopped in at the 50,000 Silver Dollar in Haugan, MT just a few miles outside of the Idaho border. In search of a gift shop, restaurant, bar, motel, casino, gas station, or convenience store? Yep, they have all of that! Everything you need is right there in one convenient spot. (Note: scroll to the end of this article and you can see some of the interesting finds from the gift shop.) I'm still not sure why a website called it the worst tourist attraction in Montana. But if you have indeed been to the 50,000 Silver Dollar Bar you might have wondered just how much money is really there on display.
The bar with the ever-changing name
I suppose the trouble with having your business name based on the amount of money individuals leave behind is that the number is constantly changing. An NBC Montana article includes some fun history about the 50,000 Silver Dollar Bar including how the bar originated in Alberton before being moved to Haugan in 1956. It also tells the story of how the practice of silver dollars becoming embedded in the bar top all began. The name of the bar has changed multiple times as the number of coins has multiplied over the years. Do you think anybody in the days of the 6,000 Silver Dollar Bar could have ever imagined that it would one day grow to 50,000 and beyond?
How accurate is that $50,000 number now?
The coins have gone from real silver dollars to the newer Eisenhower dollars over the years but they keep piling up along with the names of those that leave them behind from cities across the country and locations around the world. The bar top is covered, they stretch to the top of the walls of the bar, and they've now started to even creep their way onto the walls of the gift shop. And for the question that everyone has to be thinking about when they see it all on display? The NBC Montana story has the current number of dollar pieces approaching $82,000. Nice!
How high will the number be in another year?
How about five years? Or ten? I wonder if they have a goal in mind before we see another name change in the future!
13 Wicked Awesome Things You Can Buy at Montana's Worst Tourist Destination
Locals consider it one of the best local attractions, but tourists don't "get it" so they think the gift shop is weird. Check out the cool stuff you can buy at $50,000 Silver Dollar in Haugan, Montana.
Far Out! See the Sculptures from CANdemonium at Southgate Mall 2022
Idaho TikToker Goes Viral with Epic Prank Video