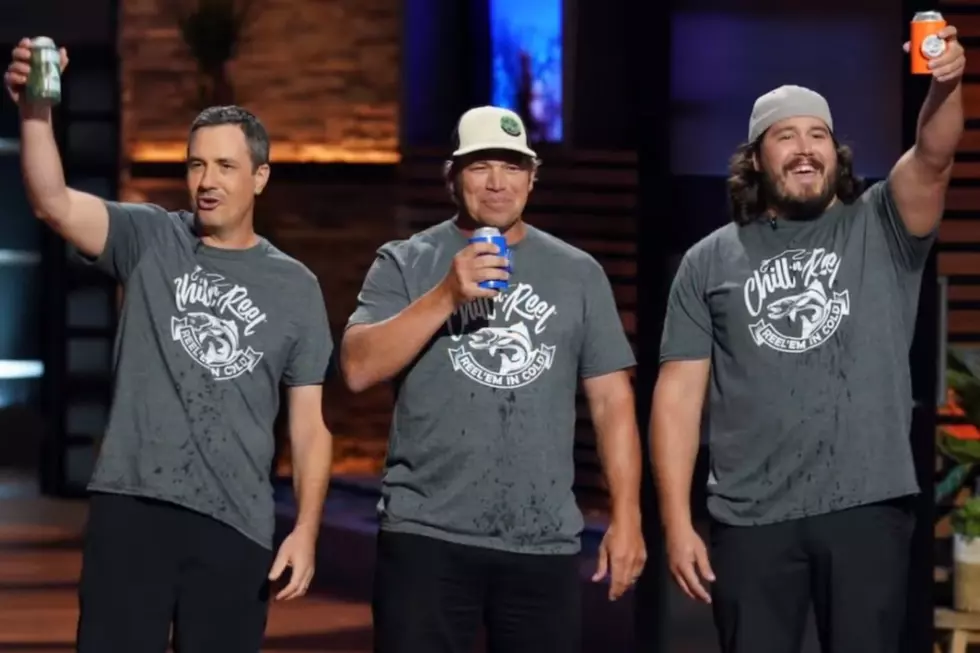 Did They Bite? Montana Graduate Makes Pitch on TV's Shark Tank
Photo: KTVQ News via YouTube
I love watching Shark Tank on TV. It's cool to see people fulfill their dreams by getting one of the investors to partner with them on their product. The show also makes me frustrated and wonder "why can't I come up with one of those million-dollar ideas?" On Friday's episode, an Oklahoma firefighter, and former Billings West grad, appeared in front of the sharks with his son and brother-in-law to present his creation, the Chill-N-Reel.
There's the old saying that "necessity is the mother of invention." And nowhere does that statement ring more true than when you're trying to fish with a pole in one hand and a beer in the other. That's pretty much the story when it comes to Jacob Rutledge and his struggles while trying to reel in a fish. After he kept spilling his beer, he got to work on a solution to instantly improve the ways of mankind and the Chill-N-Reel was born. Just picture a can koozie that keeps your drink cold with a hand-line fishing reel attached to one side.
Sure, the Chill-N-Reel isn't going to be the method of choice when it comes to serious anglers out on the lake. But that doesn't mean it can't find its way as a novelty item or even a gag gift. Here's what Amazon lists as some of the product's features:
Go fishing while holding your drink

Hand-line fishing reel attached to a hard-shell drink holder

Comes pre-wound with 50 feet of fishing line (8 pound test) and includes 1 polyurethane foam coolie insert sleeve, 1 fish hook, 1 sinker, and 1 instruction card

Sleeve insert is easily replaced with your own coolie, cozy, coozie (whatever you choose to call it)

Designed to hold standard 12 ounce cans and bottles
The opportunity to pitch the Chill-N-Reel didn't lead to any of the sharks investing in the product. But I would think that the appearance on the show, and being able to label the product "as seen on Shark Tank," should make for some increased sales. Have you already ordered one? It appears that the first Chill-N-Reel sale in Montana actually came from Missoula.
Even though the Chill-N-Reel didn't hook a shark on the show, the guys got to crack a beer with the group of celebrity investors. And that's a win in itself!
24 Closed Missoula Businesses We Wish We Could Bring Back
We asked Missoulians which of their favorite businesses that have closed down would they like to see make a triumphant return. Here's what they came up with.
FOR SALE: Naps Grill in Hamilton, Montana
Ever wanted to own a restaurant? How about one in Montana, with amazing burgers.
35 Concerts We Can't Wait to See in Missoula This Summer
Here's a full rundown of all the major concerts Missoula is looking forward to seeing this summer.