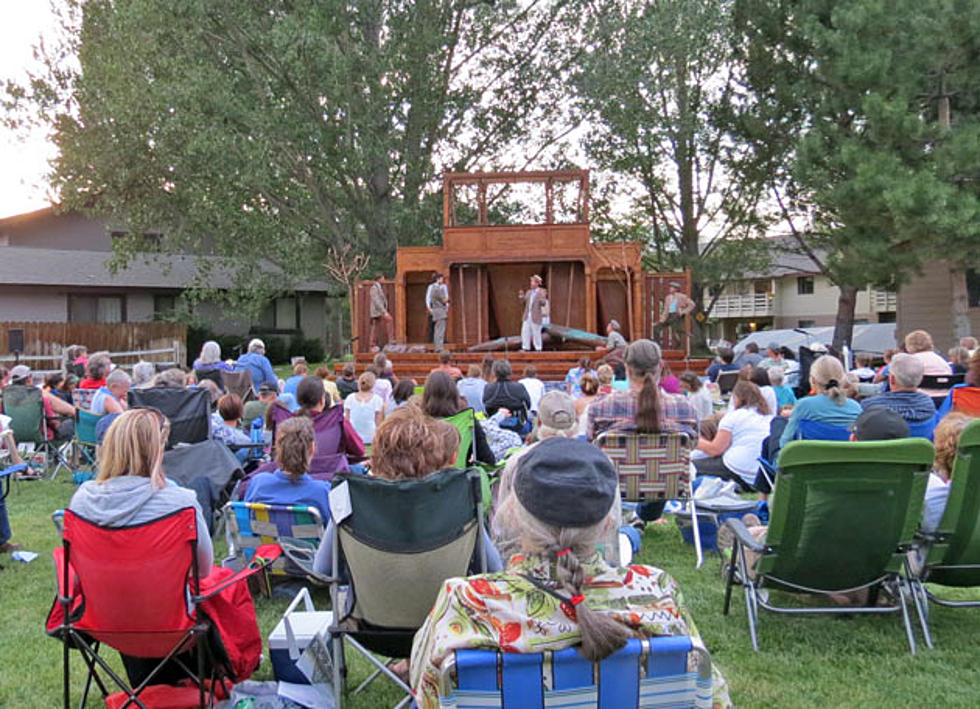 UPDATE! Shakespeare In The Parks Will Be At Ravalli Co Fairgrounds
Shakespeare In The Parks in Hamilton. (KLYQ File Photo)
Due to the smoke density, the Montana Shakespeare in the Parks Hamilton performances will be in the First Interstate Building at the Ravalli County Fairgrounds. The same start time, but BOTH TUESDAY AND WEDNESDAY shows will be inside!

Montana Shakespeare In the Parks will perform both of this summer's traveling shows in Hamilton for the first time. Each show starts at 6 p.m. and you're invited to bring a lawn chair or blanket to enjoy the live performances.
Tuesday evening's play is "A Midsummer Night's Dream," one of William Shakespeare's most popular comedies. The unwitting humans are in a forest that is home to fun-loving fairies. With lots of twists and turns, and subplots piled on top of subplots, the fun never stops. The words are from the 1500s, but the setting is a bit more familiar.
Wednesday evening is a drama that you may not have seen. Cymbeline is set in ancient Britian and is based on an ever earlier time, when the Celtic King Cunobeline ruled. Though it's a tragedy, there are plenty of romantic and comedic turns during the acts. All the usual human failings are on stage, including jealousy and murder.
The Shakespeare In The Parks program is based in Bozeman at the Montana State University campus and brings in actors from throughout the country, who travel from town to town in Montana and adjoining states. Almost daily, they arrive, set up their stage, perform, then tear down the stage, and head on down the road to the next venue.
Dominic Farrenkopf, Director of Community Life of Sapphire Lutheran Homes at 501 North 10th Street, was happy to be able to have both plays in the Bitterroot Valley. Two-night runs are usually reserved for larger populations, but he said Hamilton's continual strong support of the series led to the double-feature stay. As always, the performance is free to the public. Of course, the troupe has memorabilia for sale after the show. Your support is definitely welcome. Besides Sapphire, local sponsors include TrailWest Bank, The Rapp Family Foundation and Farmers State Bank. If you want more information about the shows and their travel schedule, check the Shakespeare in the Parks website.
10 Celebrities Who've Lived in Missoula
LOOK: Here is the richest town in each state
Just saying the names of these towns immediately conjures up images of grand mansions, luxury cars, and ritzy restaurants. Read on to see which town in your home state took the title of the richest location and which place had the highest median income in the country. Who knows—your hometown might even be on this list.