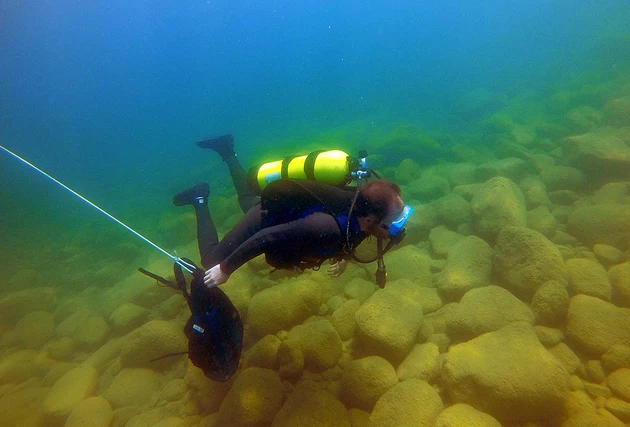 Flathead Lake Is Part of Worldwide Study
Aquatic biologist Shawn Devlin in Flathead Lake. (UM-provided photo)
Montana's Flathead Lake was one of 100 lakes around the planet in a recent study on how warming surface temperatures on Earth affect lake ecosystems. The study at Flathead was reported by the University of Montana Flathead Lake Biological Station and Shawn Devlin, an aquatic ecologist (Photo above).
The study was published in Nature's Scientific Reports and researchers collected long-term summertime temperatures at different depths, collected over 40 years, starting in 1970. In a news release, Devlin said, "One thing that made this study so remarkable is the scope. We were able to track the long-term surface and deep-water temperatures trends of each individual lake and insert that information into a much larger picture to uncover patterns that help us understand what's happening."
Researchers found significant increases in surface temperatures - about .04 degrees Celsius per decade. This was generally true in most lakes. However, deep down in the water the readings varied - sometimes, higher and other times deep-water temperatures trended lower. Devlin said that Flathead Lake, which has one of the oldest lake monitoring programs in the world, showed an increase in surface temperatures, but when combined to the deep water reports "the average temperature has remained essentially the same."
He believes the reason is a constant inflow of snow melt and glacial melt from Glacier National Park. He said the final results showed the lower levels of Flathead cooling slightly over the years. However, that can lead to what is called stratification, where movement of organisms between upper and lower sections can be prevented, impacting the lake with nutrient imbalances and changing fish populations.
Of course, more study is needed to understand what the future may hold for Flathead and other lakes around the world. The study was funded by a number of foundations and grants, including the Global Lake Ecological Observatory Network.
5 Places to Take Your RV in Montana