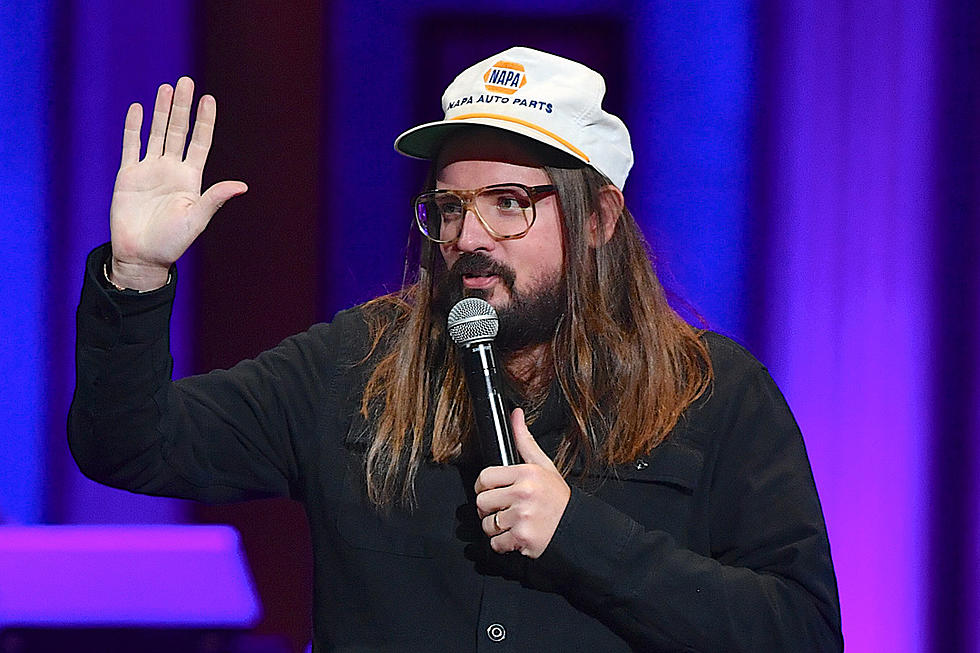 Comedian Dusty Slay Has Lived Jeff Foxworthy's Best Jokes
Jason Davis, Getty Images
Evan Paul hosts Taste of Country Nights, On Demand, a weekly country music interview podcast that focuses on the music. Follow wherever podcasts are found, like Apple Podcasts and Spotify and leave a rating and review. ​​​​​​​​​​​This show is part of the Townsquare Media On Demand network. 
Dusty Slay's comedy doesn't need to come from the Jeff Foxworthy book of standup, because his life does. The relative newcomer — and star of Season 3 of The Standups on Netflix — recently sat down to talk about his appreciation and utter amazement for what the "You Might Be a Redneck" hitmaker did.
The Alabama native got into a fair bit of trouble before finding sobriety and his voice — just wait until you hear  why he was stopped from joining the Army.
"I got arrested," he says as easily as he might say, "It's sunny outside."
"My recruiter — I was smoking a lot of weed and he was helping me clear my system and then I went for my physical," Slay — who was just out of high school at the time — recalls. "When I got back he goes, 'Alright, I shouldn't tell you this ... I know you like to smoke weed and you're gonna get shipped off in 30 days. So you'll have to take another drug test. So if you wanna smoke weed do it tonight. And then that night I got arrested (underage consumption and possession of marijuana)."
Aside from the arrest record, Slay naturally has plenty in common with Foxworthy, or at least the jokes he tells. It's fair to say that albums like You Might Be a Redneck If ... and Games Rednecks Play were an epiphany.
"He came out with the You Might Be a Redneck ... album when I was in middle school, living in a trailer, and he had us walking around saying, 'Yontoo' and 'Aight' like we weren't already saying them," Slay says, reflecting on his teen years with utter astonishment decades later.
"I always like the redneck words, like the word 'Widja didja' … cause it was, like, blowing my mind. I don't even realize we're saying these things."
You can see how Foxworthy uses "widja didja" at about the 0:55 mark below:
"The first two albums by Jeff Foxworthy are the best," Slay crows. "They really can't be beat."
With his trucker hat, slightly dated eyeglasses, and long, dark hair, Slay has a look that's similar to someone Foxworthy might be describing. It's all pretty authentic. In fact, his personal life includes a few anecdotes a redneck might be proud of. For example, his younger sister is not at all related to his older sister. Take a break and do the math on that if you want.
Expect a uniquely charming blend of observational humor and anecdotes when you see Slay live or on television. His signature is "we're having a good time," something he says regularly throughout his set. It came from working the road and doing bad shows and not wanting to risk asking if his audience was having fun. So, he just tells them they are.
"Or you walk out and you feel like the audience is not even into it when you take the stage," he tells Taste of Country Nights host Evan Paul. "So I just would go, 'We're having a good time.' Instead of asking and hearing ... their groans. You just go, 'We're having a good time.'"
The Standups features Slay and five other comedians delivering half-hour sets. Brian Simpson, Naomi Ekperigin, Mark Normand, Janelle James and Melissa Villaseñor are the other comics, and each performs from the Edison Ballroom in New York City.
During the interview, the 30-something stage veteran talks about the business of standup as much as he does his life and humor. Listen above to hear him talk about handling hecklers (they are not appreciated) and the confines of televised performances.
"It's probably the least natural that comedy is," Slay says of appearances on shows like The Tonight Show. "When I'm doing an hour in a club, I've got a good idea of what I'm going to say, but it can go any way. But when you're filming ... you're on a script, basically. It's your script, but you've said this is what I'm going to say and that is what's approved, so that's what you say. Even if it's not going well."
Later this month, look for Slay to return to the Grand Ole Opry (March 12), a venue he relishes the chance to perform in.
"I am such a country fan to this day," he tells ToC Nights, recalling visiting the Opry often as a kid.
"I've met Charlie Daniels and Charley Pride. They're up singing and then I go up to tell jokes ... it goes over really well. I feel like every time I walk out people are looking at me like, 'Who is this guy?' And then I get 'em."
PICTURES: See Inside Kevin Costner's Spectacular Colorado Ranch
Yellowstone star Kevin Costner lives the ranch life when he's off the set of the hit show, too. The Oscar-winning actor owns a 160-acre ranch in Aspen, Colo., that's a spectacular getaway, complete with a main residence, a lake house and a river house.
The luxury retreat also features a baseball field, a sledding hill, an ice rink, multiple hot tubs and views of the Continental Divide. The ranch property comfortably sleeps 27 people, and it's currently available to rent for 36,000 a night.