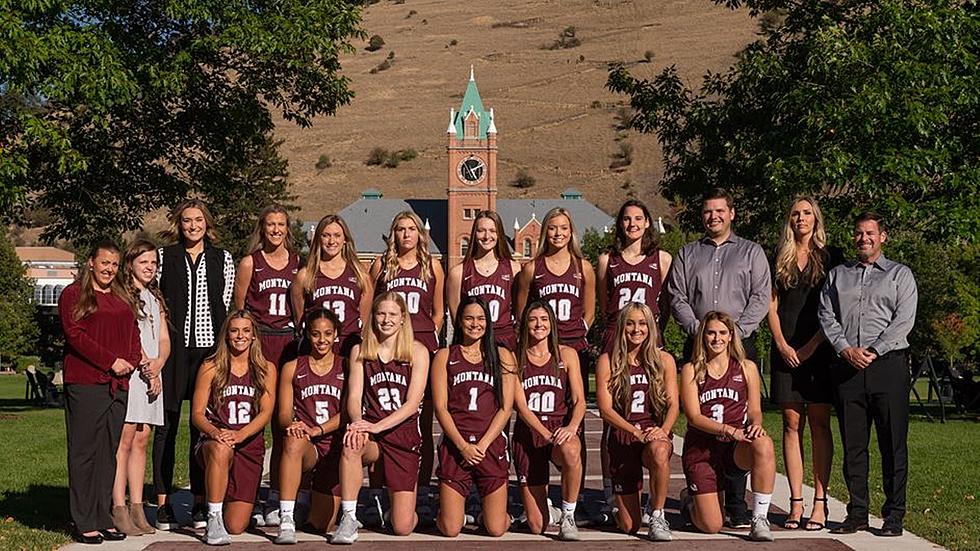 Brunch, Anyone? Unique Way to Meet UM Lady Griz Basketball Team
Image courtesy of U of Montana Athletics
There is a lot of excitement, and curiosity, surrounding this year's University of Montana Lady Griz basketball team.
They have a new head coach, Brian Holsinger, who is already putting his signature on different recruiting strategies. They have two new assistant coaches, including a former Missoula high school star, Joslyn Tinkle, who enjoyed a stellar playing career at Stanford. And they have a nucleus of talented players who are embracing all the changes and newfound enthusiasm for the program, as this article by UM Women's Sports Information Director Joel Carlson illustrates.
So, why wait until the Maroon and Silver scrimmage on Wednesday, Oct. 27, to get your first glimpse of the new-look Lady Griz when you can get up close and personal with the Montana women's basketball team at the first-ever Lady Griz Basketball and Brunch?
The event will be held on Sunday morning, October 17, starting at 10 a.m. at Stave and Hoop, the new basement venue at 223 North Higgins (beneath Pangea) co-owned by former Lady Griz great Skyla Sisco, who later this month will be inducted into the Grizzly Sports Hall of Fame.
For $40 you'll get a full brunch buffet and time with the Lady Griz coaches and players in a more intimate and personal setting than most fans are accustomed to.
AND You don't need to be a member of the Lady Griz Hoop Club to attend, or a season-ticket holder or check any other box that would exclude anyone who is interested. All are welcome (to a point, the venue only holds so many, so don't delay).
Hosted by Riley Corcoran, the Voice of the Griz (and Lady Griz when called up), the morning will feature a buffet and an in-depth look at the team and the season ahead with  Coach Holsinger, plus an introduction to the 13 players on this year's squad.
Given the event is fast-approaching, and Lady Griz fans are a devoted, dedicated bunch, you might want to reserve your place at the table soon. You can do that by contacting Lady Griz assistant coach Jordan Sullivan via email, jordan.sullivan@mso.umt.edu.
We would love to see you there!
LOOK: Best Beers From Every State
To find the best beer in each state and Washington D.C., Stacker
analyzed January 2020 data from BeerAdvocate
, a website that gathers user scores for beer in real-time. BeerAdvocate makes its determinations by compiling consumer ratings for all 50 states and Washington D.C. and applying a weighted rank to each. The weighted rank pulls the beer toward the list's average based on the number of ratings it has and aims to allow lesser-known beers to increase in rank. Only beers with at least 10 rankings to be considered; we took it a step further to only include beers with at least 100 user rankings in our gallery. Keep reading to find out what the best beer is in each of the 50 states and Washington D.C.