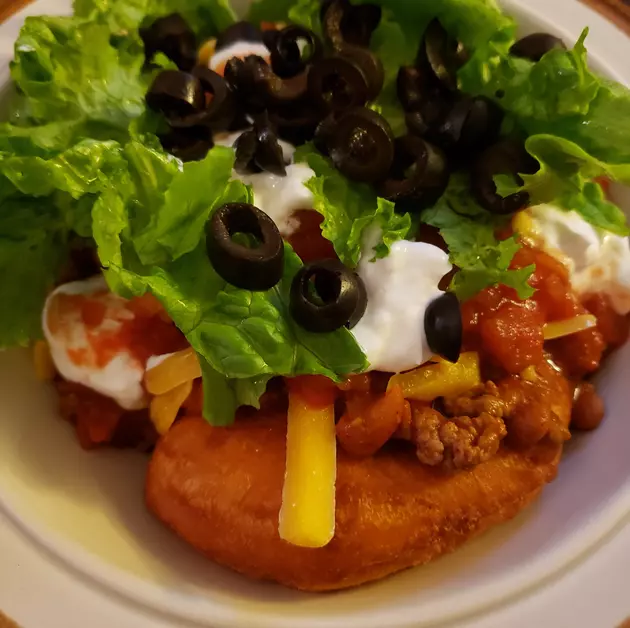 A Missoula Restaurant is Now Selling Real Indian Tacos
Photo by Angel
Opportunities to enjoy an Indian Taco are few and far between. It's either at a powwow or a special occasion at a Native's house. And I'm talkin' real Indian Taco, because anybody can fry dough and throw taco toppings on it, but REAL Native made tacos are hard to come by.
People will sometimes ask two questions: what's an Indian Taco, and is it offensive to call it an Indian Taco. An authentic Indian Taco is Native fry bread covered with chili and typical taco stuff: lettuce, cheese, black olives, onions, tomatoes, sour cream. There are some variations on this, for instance, some put salsa on theirs, and the meat varies from ground beef to venison. I've always thought an Indian Taco would be good with chicken chili, but have never tried it, if you have, let me know if it was as good as it sounds. And no, the name is not offensive, that's what they're called.
You will now be able to enjoy this rare treat every Tuesday at Market On Front, thanks to Native staff member, Alonzo BringsYellow. Downtown Missoula's unique take on taco Tuesday began today and will be featured each Tuesday. Market On Front is at 201 East Front street and each time I drive by, it reminds me of those cool little outdoor eateries in towns you visit on vacation, and when you see them you think that the locals are so lucky to have such neat places to dine. Last year, I believe it was February of 2020, I shared some info on our socials about a one day only Indian Taco lunch sale and they sold out in the first 10 minutes, so you might order as early as you can next Tuesday.
LOOK: 40 Discontinued & Special Edition Kellogg's Cereals