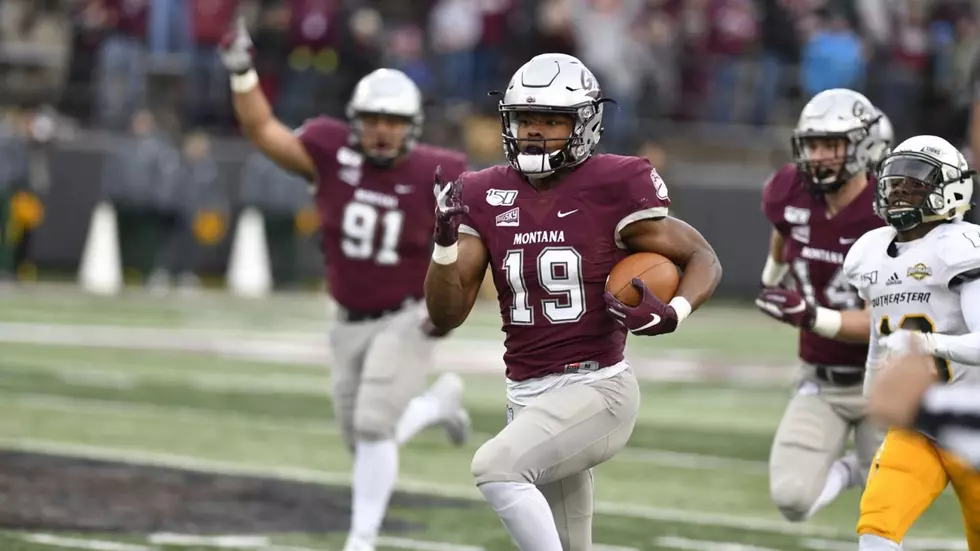 Next Montana Grizzly Football Playoff Date and Time Announced
Image courtesy of U of Montana Athletics
The Montana Grizzly football team is on their way to a quarterfinal contest in the FCS playoffs.
Fresh of an exhilarating 73-28 thrashing of Southeastern Louisiana Saturday, the Griz are off to Ogden, Utah, for a rematch with the Weber State Wildcats, a team Montana knocked off 34-16 in Missoula November 16. Weber State survived a close contest against Kennesaw State Saturday. 26-20, to move to the quarterfinals. Had Kennesaw State won that game, we would be preparing for another home game this coming weekend.
ESPN, which owns the rights to the playoff broadcasts, has announced the quarterfinal schedule. Take a quick nap after work Friday, Griz fans. Montana will take on Weber State Friday night, December 13, starting at 8:00 p.m. The game will be carried on ESPN2. And of course we will be providing complete radio coverage starting at 6:00 p.m. with the pregame show, in MIssoula on NewsTalk KGVO, FM 98.3 and AM 1290 as well as newstalkkgvo.com. And in Hamilton on 1240 KLYQ.
A Griz win and a James Madison loss would mean another playoff game in Missoula the weekend of December 21. I think we now all know what we need to ask Santa for this Christmas, right?