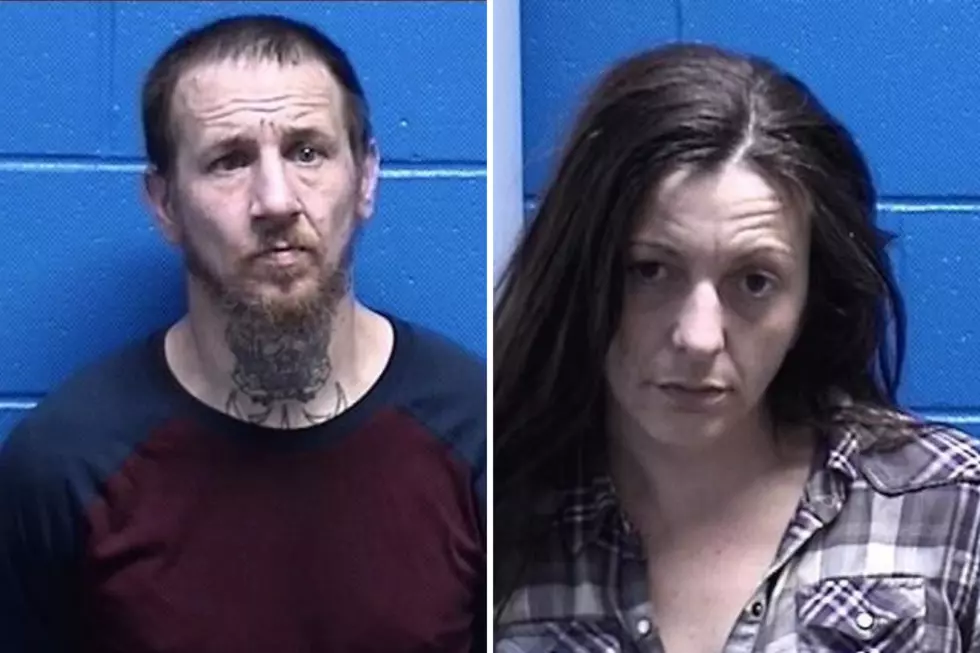 Missoula Law Enforcement Arrest Couple for Multiple Burglaries in Montana
Photo Courtesy of the Missoula Jail
Just before 2:15 Sunday afternoon, Missoula police officers responded to the report of a burglary alarm at Red's Towing in the 300 block of N. Russell Street. Police Public Information Officer Travis Welsh explains.
"When they arrived, they found a vehicle idling nearby and the officers had prior knowledge of the owner," Welsh said. "The identified a male inside the vehicle who claimed to have been asleep and had no idea how he got to the business. However, the male was also known to be an acquaintance of the owner of the car."
According to court documents, an officer heard a suspicious noise coming from the yard of a nearby residence. As he searched for the source of the noise, he caught sight of an individual walking along the north side of the Montana Street Storage compound.
"A short time later, the officers located a female on the edge of their perimeter around the business and identified her as 35-year-old Kasey Hugs," Welsh said. "Hugs was the person who the officers knew owned the vehicle. Hugs was also found to be in possession of items taken from inside the business and she was subsequently arrested for burglary."
Hugs was wearing clothing from Red's Towing and she was also had multiple keys that belonged to the business.
The man was eventually identified as 43-year-old Travis Burgess, Hugs' boyfriend. Burgess happened to be a suspect in two other burglaries.
On February 29, at approximately 7:54 a.m., a Missoula County Sheriff's Office Deputy responded to a reported burglary in Seeley Lake. A Dell laptop, a Samsung cellphone, and $50 had been stolen from a local business.
Later that day, the deputy reviewed surveillance video clips of the suspect during the burglary.  He observed several distinctive physical characteristics of the suspect.
At approximately 5:54 a.m. on March 1, the deputy responded to another burglary that had just been discovered at Stone Fly Bar. Surveillance video revealed that a male and female suspect broke into the business and stole an ATM.
While investigating the second burglary, the deputy spoke with Missoula police and learned that the suspect male could be Burgess. A MCSO detective interviewed Burgess at the jail. When pressed about the stolen ATM, which was not in the vehicle, Burgess told the detective that the ATM had been stashed in the woods.
Burgess showed detectives that the ATM was hidden near Whittaker Bridge.  The ATM had been pushed off an embankment and covered with rocks and stocks to conceal it. The ATM had been severely damaged by a grinder but did not appear to have been successfully opened.
Burgess was charged with two counts of felony burglary and Hugs was charged with one count of felony burglary.