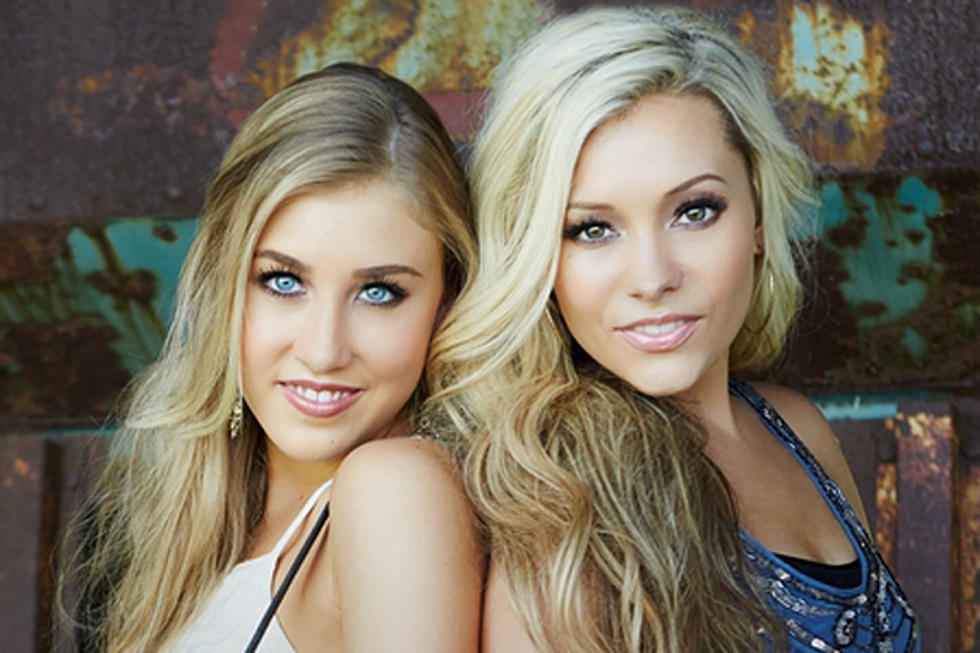 Maddie and Tae Don't Think of 'Girl in a Country Song' as Risky
Dot Records
Maddie and Tae met through a vocal coach and the rest is making history. The teen duo instantly connected and were ready to team up for the sake of music, not to create controversy. They never expected the reaction their debut single has gotten, including airplay before it was officially released.
The girls, Maddie Marlow and Tae Dye, both grew up singing and knew they'd met their equal when they were introduced. They began writing songs and singing harmonies together -- all the while dreaming of Nashville. Now their debut single, 'Girl in a Country Song,' is out on country radio. So did they foresee all of this happening?
The song was written in good fun, we never intended it to hurt anyone's feelings or anything
"Absolutely not!" Marlow tells Taste of Country about their sudden fame. "You know, it has been very, very quick. We wrote 'Girl in a Country Song' on St. Patrick's Day so it has been a whirlwind but all our dreams are coming true and it's amazing."
The song is the source of most of the buzz circulating around the young duo and they know it's because they chose such a "bold" song as their first single. It pokes a little fun at "bro-country" and some huge radio hits including Blake Shelton's 'Boys 'Round Here,' Billy Currington's 'Hey Girl,' Jason Aldean's 'Dirt Road Anthem' and Thomas Rhett's 'Get Me Some of That.' But it's just that -- fun.
"The song was written in good fun, we never intended it to hurt anyone's feelings or anything," Marlow says. "We hope everyone takes it lightheartedly and just go have fun with it."
The song was co-written by both Maddie and Tae along with Aaron Scherz. They say the songwriting process for this country response was a little different than anything they'd ever done before. And, it was a Monday.
"Mondays suck sometimes," Dye says with a laugh adding, "but this was anything but."
Dye refers to their song as "bold" before adding, "but then again it's honest and it's true ... it's just very different because we had never done anything like it and it was very fun."
Maddie and Tae are the first artists signed to Dot Records, a division of Big Machine Label Group, and they collaborated with their team before deciding to release it. Their "dream team" knew this song was a fresh viewpoint and wanted to get it out there.
"We loved the song, we thought it was awesome," Marlow explains. "We weren't sure if it was the first single but our team just fell in love with it and said, 'You know this perspective needs to go out and it's fresh right now and it's going to work.'"
"It's working!" she exclaims adding, "We are so excited!"
The possibility that releasing 'Girl in a Country Song' could be a risk for the two didn't even phase them. With the help of their team at Dot, they were ready to put it out there.
"We've been blessed with an incredible team behind us — Scott Borchetta and everybody at Dot Records," Dye's counterpart says. "They're not afraid of taking chances and we aren't either so it is the dream team we've got behind us."
The song started spinning on country radio well before its release date so obviously the duo is doing something right. They didn't talk to any of the "country bros" they have a little fun with in their song, but they know they're listening and they couldn't be happier about it.
"We've met some of them and they're amazing and have great humor," Dye explains. "Some of them have listened to it and the fact that they're even listening to our song makes us want to cry because it's so exciting."
They're not just listening, they're also promoting. Chase Rice took to Twitter to tell the girls how he feels about the song. "I love this new @MaddieandTae song," he wrote. "Somethin sexy bout a little s*** talkin. Keep it up girls. #GirlInACountrySong"
"We met him at CRS this past year, he's a great guy … you can tell he's diggin' it so we're very, very excited about that," she continues.
Having their song mentioned on Twitter by Rice may have been pretty cool, but it wasn't their "Oh my gosh" moment.
"I think the 'oh my gosh' moment, so far, was we were at a radio station and there were fans singing our songs back to us," Marlow says of their dream that just keeps becoming more and more real.
Startling Facts About Women and Country Music