2013 Grammy Awards Best Dressed Pictures
The biggest night in music is also one of the biggest nights in fashion, and the 2013 Grammy Awards did not disappoint. The best dressed artists from the red carpet took chances, but didn't go too far with a good idea. Country music's best dressed stayed on the right side of the line between exciting and eyesore.Â
Taylor Swift was the country artist most at risk of violating "the memo" in this gown by J. Mendel. She brought chic and sexy style to the red carpet in her revealing cream gown. It almost seems custom made for her tall frame. The silver strapping may have been inspired by Cleopatra, and added a nice effect.
Dierks Bentley stayed true to his country roots, but brought a little L.A. style to the Grammys with a pair of slab gray skinny pants. With a clean haircut and trimmed beard, the 'Home' singer and Grammy nominee presented a more sophisticated style than his fans are used to. His wife, Cassidy, also looked amazing in her daring black mini.
Carrie Underwood is to Best Dressed lists what the sun is to sunrise. The 'Blown Away' singer and Grammy winner chose an interesting, but not distracting Roberto Cavalli strapless gown for the 2013 Grammys. Black has been the singer's color of choice recently, and this design with $31 million diamond necklace are perfect accents to her beautiful skin tone and blonde hair.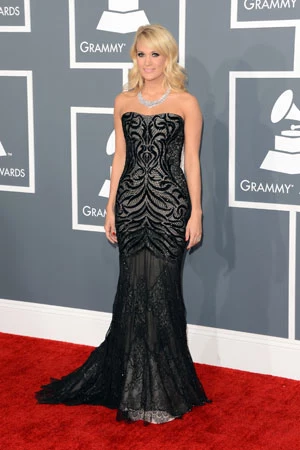 See the Worst Dressed From the 2013 Grammy Awards
Source:
2013 Grammy Awards Best Dressed Pictures